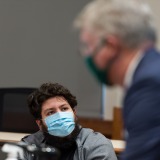 What I've tried to do in the program is to help students self-advocate and to help them understand how academic settings work.
The first year of college is a crucial milestone for all students, as they learn ways to navigate the more self-directed waters of higher education. This is true for many first-generation students, and research is showing the times can be especially challenging for Hispanic males.

Fitchburg State is in the third year of a program designed to help Hispanic males survive and thrive in their studies, closing persistent achievement gaps that are observed at institutions across the country.

Professor Diego Ubiera (English Studies) appreciates his role as a mentor. In addition to advising his own students and serving in the past as an advisor to the Latin American Student Organization, Ubiera has been part of a mentorship program that is central to Fitchburg State's Hispanic males project.

One element of the project is supplemental advising; beyond their assigned faculty advisor, the students are assigned to secondary mentors who can help them manage challenges.

"What I've tried to do in the program is to help students self-advocate and to help them understand how academic settings work," Ubiera said. "I stress the question of familiarity. Students aren't always familiar with the particularities of academic culture."

For example, Ubiera tells students that they ought to reach out to professors, actively attend office hours, and be patient if they feel like they're not learning.

"I tell them to ask questions even if they're nervous to approach a professor, and to understand academic inquiry as a vital, living thing, as opposed to something that feels like irrelevant, arbitrary compliance," he said.

Ubiera also tries to connect students with alumni so they can see the positive return on their investment that awaits them.

Professor Sean Goodlett (Economics, History and Political Science) helped build the initiative that launched in 2018 supporting Hispanic males, and also serves as an advisor to his own cohort of students. The project was supported by a grant from the state Department of Higher Education and has since received funds from the Office of the Provost.

"We've learned a lot about early intervention with students," he said, explaining that the data from the grant showed that those who struggled in the first month of college were far less likely to make it to their next year.

The project is showing promising success, said Goodlett, who has been moved by the stories he hears from his advisees. "Many of the students I've talked to have all said, 'I'm here to make my family proud,'" he said.

The strategies that are helping these students are also serving the campus population at large, Goodlett said. Next fall the university will scale up the first-year experience (FYE), where instructors teach college-level reading, information literacy, and the habits of mind of successful students. The course also emphasizes the importance of lifelong learning.
Professor Danette Day (Education) joined the initiative in 2019, and also led to sessions of the FYE seminar. Her advisees, by design, were also part of her FYE sections. "Much of the help I provided students was related to finding information required to make decisions about classes and university procedures," she said. "At times, students even sought help for their peers because they knew I would help, and I was happy that I could help. I even provided a reference for one of my mentees when they applied for a summer job."
Day has maintained her connection with her mentees, the vast majority of whom returned to their studies for their second year. This fall she heard from many that they were struggling to adapt to the learning conditions created by the ongoing pandemic, telling her they wished "they could push a button to become smarter because they doubted their ability to persevere," she said. "My response to these conversations were to provide my mentees a pep talk and words of encouragement."
Being that source of support is key, Day said. "As a faculty mentor and advisor, I know that the additional time and cooperative effort we extend to check in on, not only our most vulnerable underrepresented students, but also our students who without additional support would achieve success is essential for the overall health and well-being of our learning community, especially during this pandemic."
This article was originally published in the Winter 2021 edition of Contact magazine.