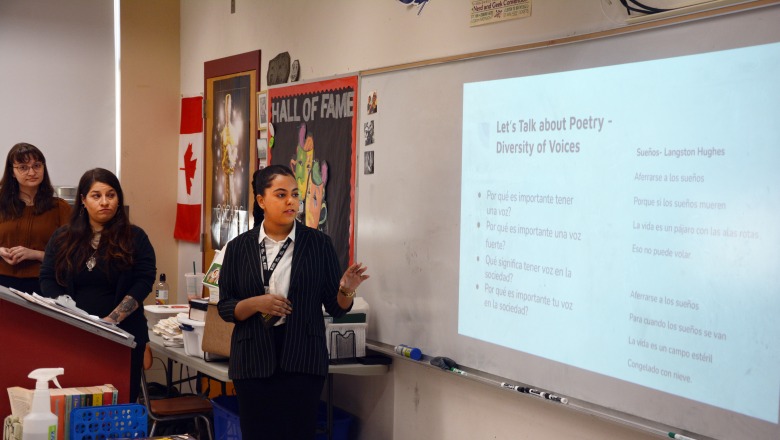 Racism, implicit bias, and efforts to counter those forces can be controversial when presented in scholastic settings, but confronting the issues with intention is crucial to navigating today's world. Those were among the topics explored when teacher candidates from Fitchburg State University recently visited with students at Fitchburg High School.
The grant funded project, created through collaboration between Fitchburg State University professor Katharine Covino and Fitchburg High teacher Garrett Zecker, brought educator candidates from Fitchburg State together with high school seniors to discuss racial and economic inequality and their impact. The program was part of the 2021-22 Community Read of Nomadland by Jessica Bruder.
The discussions led to the creation of original poetry by the high school students that will be curated into an online exhibit that will be shared with the community.
As she led the class discussion, EmmaLee Richard, a Fitchburg State senior from Athol, noted that diversity can take many forms, including age, ethnicity and race, as well as nationality, socioeconomic status, religion, and family life. Richard encouraged the students to think about how those areas frame what constitutes the "normal" cultural experience, and who gets to decide what that is.
The Fitchburg Public Schools serve a diverse population, where white students are the minority population. While students in the city's schools experience diversity every day, the university visitors encouraged them to think about how they perceive others and to be cognizant of the implicit biases they may carry.
"A lot of times we see caricatures of diversity," Richard said, discussing a series of scholastic sports mascots based on stereotyped depictions of Native Americans. Such presentations can be demeaning and devaluing, she said.
Fitchburg State junior Nathacha Santiago-Prado described her experiences attending high school in another state. "I didn't have any teachers who spoke Spanish," she said. "Be thankful you have a school that is very diverse. Your voice does matter. Including diversity in schools lets other voices be heard."
"You might not see someone for who they are," said Vanessa Roberto of Leominster, whose family is Puerto Rican but who is often assumed to be white.
That led to a discussion of "code switching," where people may alternate language or speech patterns depending on with whom they are interacting. To help illustrate this, Santiago-Prado and Roberto took turns reading Langston Hughes' poem "Dreams," first in Spanish and then in English. There were bilingual students in the classroom, who noted how the Spanish reading may have appeared to alienate the English-language speakers in the room. That is a dynamic that native Spanish speakers have to navigate on many occasions.
Here are some poems written by the Fitchburg High students:
"Diversity" by Trinity Davis
What if the world
was all the same
and everyone played
the same game.
There wouldn't be
any fun.
Leaving you stuck with
nothing but confusion.
Complexion comes in 
varieties.
And it's something so
beautifully.
One person might be white
one might be black.
But that's what makes us
Unique.
Diversity.
"The American Dream" by Kevin Rodriguez
The American Dream was a lie, 
Its rubble a sad reminder.
We watched it crumble and die,
as the government put on its blinders.
"All men are born equal," they say
but discrimination goes unchecked.
Whether of color, trans, or gay,
be ready to face the neglect.
"Separate church and state," but no. 
They use religion to their favor.
Police mistreat the people
and only for the color of their skin.
Many have died at the hand of evil.
They get a slap on the wrist for their sin,
too many horrors have been let slide,
too many lives destroyed or lost.
So to those who think this is justified,
was your comfort worth the cost?