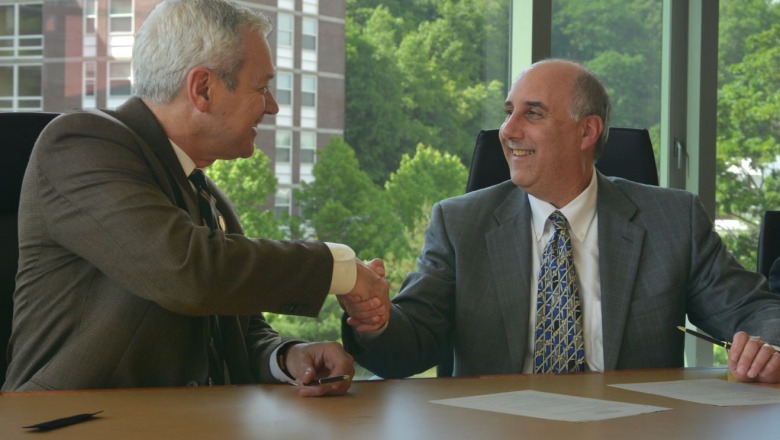 Fitchburg State University and the Fitchburg Public Schools have re-signed the honors compact that gives students enrolled at Fitchburg High School's Honors Academy priority admission to the University as well as access to university courses, facilities and scholarships.
The agreement extends a compact first signed in the fall of 2013. The current cohort of Fitchburg High School Honors Academy students has taken a combined 58 dual enrollment courses through Fitchburg State, and several students are expected to take a sociology course on campus this summer at no cost.
"We're very excited to forge this relationship," said Fitchburg State University President Richard S. Lapidus, describing how the agreement solidifies the concept that education is an ecosystem composed of many parts. "This is a nice way to blend opportunities across the campuses."
"I can't say enough about the partnership between the Fitchburg Public Schools and Fitchburg State University," Superintendent of Schools Andre Ravenelle said. "This isn't about a 'gifted and talented' program. It's about finding ways to help students maximize their skills."
Fitchburg High School Principal Jeremy Roche, himself a Fitchburg State alumnus, described the research and development of the honors academy. Once that model took shape, he reached out Fitchburg State to discuss possible collaboration. The honors compact was the result, and the first cohort of Fitchburg High honors academy students will be entering their senior years this fall.
"I can guarantee you our students are going to be college-ready coming out of this honors program," Roche said. "I believe that Fitchburg State University is an unbelievable higher education opportunity for our kids."
Fitchburg High junior Grayson Chesbrough is a member of that first honors program cohort, having taken several Fitchburg State courses during his high school years, including a public speaking course in his first semester and a sociology course this summer. The program has let him surround himself with students of similar ambition and interests, he said, along with a support network in challenging times.
"It made me a better person," Chesbrough said. "It's an amazing opportunity we have here."
Fitchburg Mayor Stephen DiNatale, also a Fitchburg State alumnus, attended the signing ceremony. He saluted the collaboration between the city and the University, and said it reflected a concerted effort to provide local students with the best opportunities, from kindergarten through college.
"This is innovation and choice that everyone should really recognize," the mayor said.
Read news coverage of the signing ceremony in the Sentinel & Enterprise and view the signed honors compact (PDF).