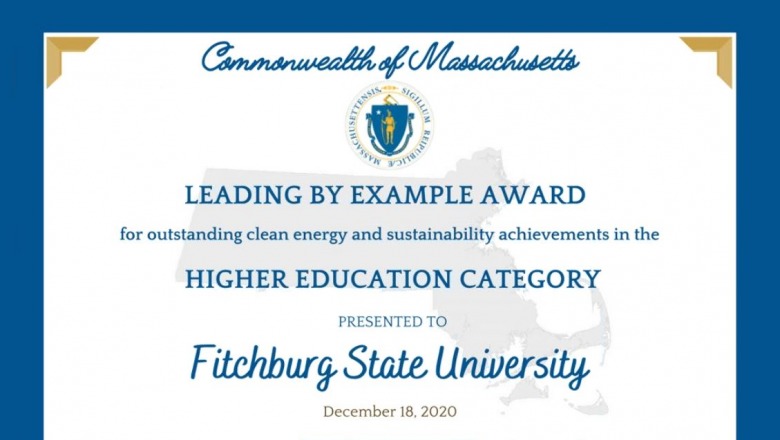 Fitchburg State University was honored at the Commonwealth of Massachusetts' 14th Leading by Example Awards for outstanding public sector energy and environmental efforts.
The university was among eight Massachusetts state agencies, public higher education institutions, municipalities, and public sector individuals recognized by the Baker-Polito Administration on Friday, Dec. 18, for their leadership in promoting initiatives that reduce energy costs and environmental impacts.
Fitchburg State was recognized for a host of sustainability efforts across campus, including completion of an extensive energy project with DCAMM resulting in elimination of #6 oil combustion on campus and an expected $9 million in lifetime energy cost savings, achieving LEED Silver Certification for three buildings, comprehensive recycling and waste diversion programs resulting in over 40% of food waste being diverted, installing their first EV charging station in 2019, and more.
"Our state agencies, schools, and municipalities are making tremendous efforts to reduce greenhouse gas emissions and lower operating costs and I'm proud to recognize their consistent, meaningful work today," said Governor Charlie Baker. "I commend the awardees recognized today for their commitment to making the Commonwealth a cleaner, healthier, and more sustainable place to live." 
"Massachusetts remains a national leader in clean energy and energy efficiency because of the efforts of state and local leaders who work tirelessly to put climate change at the forefront of their work," said Lieutenant Governor Karyn Polito. "Whether it's installing a solar array on a closed landfill, or expanding electric vehicle charging, these individual and group efforts help to advance the state towards our ambitious climate and energy goals."
Fitchburg State President Richard S. Lapidus accepted the award at the virtual ceremony.
"Our efforts at Fitchburg State span several campus buildings and operations, including replacing dirty fuels with renewable or cleaner alternatives; green construction and renovation projects; reducing electricity use across buildings; diverting food waste; and communicating with members of our community the importance of the work we are all doing," Lapidus said. "Most of the work we have done may not be readily visible to the campus community, as it has taken place behind walls, underground, and within building systems. But all of it is having an impact on moving us forward toward reaching our sustainability goals. That work is shared across departments and represents a truly comprehensive commitment to sustainability."
Lapidus singled out Vice President for Finance and Administration Jay Bry, Director of Environmental Health and Safety and Risk Management Leah Fernandes, and Associate Vice President for Finance and Administration Mary Beth McKenzie for their leadership in the university's sustainability efforts.
Awardees were honored for policies and programs that advanced substantial energy and emissions reductions, sustainable landscaping practices, renewable energy installations, energy efficiency, waste minimization, electric vehicle infrastructure, and a host of initiatives that reduce environmental impacts and costs for state and municipal operations. Due to the COVID-19 pandemic, this year's award ceremony was held virtually. 
The Leading by Example program is administered by the Department of Energy Resources (DOER) and works collaboratively with state agencies and public colleges and universities to advance clean energy and sustainable practices that reduce the environmental impacts of state government operations. Cities and towns across the Commonwealth receive similar support and grant funding through DOER's Green Communities Division. The awards were presented by Energy and Environmental Affairs (EEA) Undersecretary Judy Chang, DOER Commissioner Patrick Woodcock, and Division of Capital Asset Management and Maintenance (DCAMM) Commissioner Carol Gladstone. 
In addition to Fitchburg State, the University of Massachusetts Medical School was recognized in the higher education category. Other awards were presented to: the city of Woburn; the town of Egremont; the Executive Office of Health and Human Services Facilities; the Massachusetts Department of Transportation Aeronautics Division; Larry Sullivan from the Town of Norfolk; and Paul Antoniewicz from the state Trial Courts.
To learn more about the Leading by Example program, visit https://www.mass.gov/leading-by-example-program.