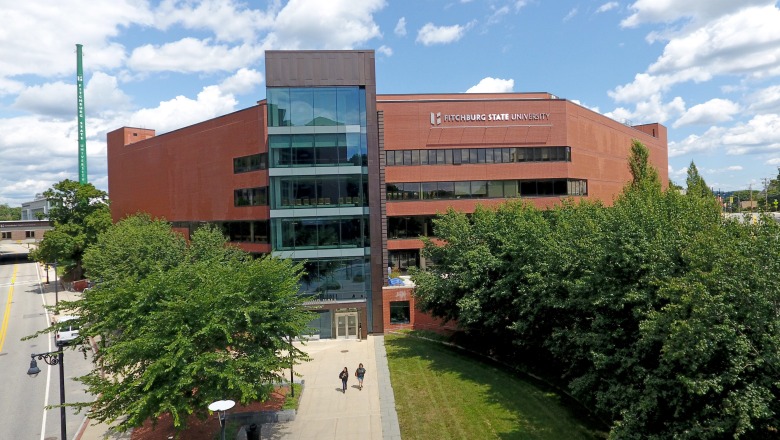 Fitchburg State University is prepared for the upcoming fall semester, welcoming new and returning undergraduate and graduate students. The academic year will feature the launch of new academic programs and a continued focus on supporting student success.
"It has been a busy summer on campus and we are thrilled to welcome students back for robust, in-person learning and extracurricular experiences this fall," Fitchburg State President Richard S. Lapidus said. "The university strives to foster a student-ready environment where they are engaged and supported in their academic pursuits, and feel a sense of belonging in our shared community. We look forward to building this environment from their first days on campus."
Fitchburg State will welcome approximately 800 new first-year and undergraduate transfer students at the start of the semester, as well as hundreds of new graduate students. The incoming class includes students from 24 states, 20 countries and five continents.
Several new academic programs are launching this fall, including an interdisciplinary minor in political journalism, serving students interested in journalism, political science, and the role of reporting in democratic societies. This semester also marks the debut of a new course called "Podcasting the Past," in which students will collaborate across the disciplines of history and communications to integrate historical research and story development with audio production. Their work will be released through Perseverantia: the Fitchburg State Podcast Network (which can be heard at fitchburgstate.edu/podcast).
The majority of new residential students will move in Monday, Sept. 4 (Labor Day), starting at 9 a.m. from the Wallace Civic Center. The northbound lanes of North Street will be closed to non-university traffic between Pearl and Ross Streets from 9 a.m. to 2 p.m. on that date. The majority of returning residential students will move in Wednesday, Sept. 6. There may be brief road closures around campus between 9 a.m. and 5 p.m. that day.
Orientation activities for new students will take place from Monday, Sept. 4 through Wednesday, Sept. 6. Fall semester classes will begin Thursday, Sept. 7.
Among the early highlights of the 2023-24 academic year:
The university will host Rock the Block, its 25th annual club and organization fair, at 3:30 p.m. Thursday, Sept. 14 (rescheduled from original date of Sept. 12 because of rain). One of the most popular student events of the year, Rock the Block connects students with the myriad extracurricular and job opportunities available on- and off-campus.  
The sixth cohort of officers will graduate from Fitchburg State's groundbreaking police program at 11 a.m. Friday, Sept. 15 at Weston Auditorium. The new officers, who will take their oaths at the ceremony, completed their bachelor's degrees in criminal justice in May and are this summer completing a 17-week academy of defensive skills and tactical training, in addition to classroom work. The academy includes credits toward the master's degrees that may complete in the next academic year.
The university will observe Latinx Heritage Month from Friday, Sept. 15 through Sunday, Oct. 15, and will also present programming in observation of LGTBQ History Month throughout the month of October. Additional details will be posted on the university website at fitchburgstate.edu.
The CenterStage arts and culture series welcomes Platinum-selling band Orleans to Weston Auditorium at 7 p.m. Saturday, Sept. 30. Tickets are available at fitchburgstate.edu/centerstage.
The university will celebrate its Homecoming and Reunion Weekend Friday, Nov. 3 to Sunday, Nov. 5. Details are posted at fitchburgstate.edu/homecoming.
To learn more about Fitchburg State and its programs, please visit fitchburgstate.edu.