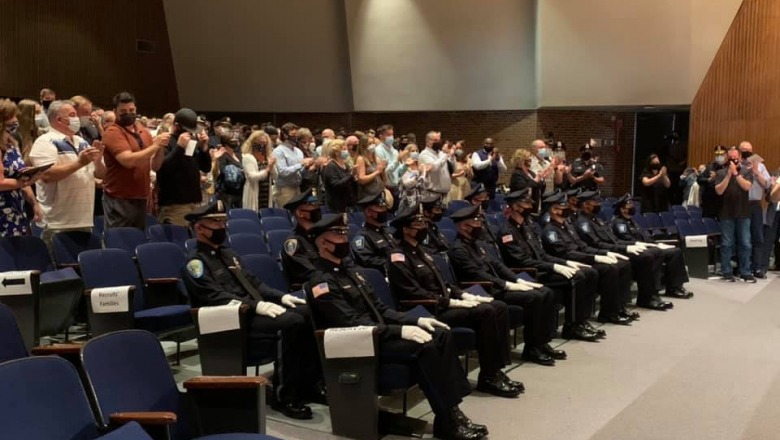 Fifteen police officers took the oath of honor Friday, Sept. 10 when Fitchburg State University graduated its 4th Recruit Officer Course (ROC) in a ceremony at Weston Auditorium.
The new officers, most of whom have already been hired by area police departments, are completing Fitchburg State's first in the nation police program, wherein graduates complete bachelor's and master's degrees, plus full certification to work in police departments in Massachusetts and neighboring states, in five years.
Officer Timothy N. Sheehy of Wakefield, the class leader, said the 15 officers sworn in Friday were brothers and sisters, united by their shared experiences over four years of undergraduate study and the rigors of the 17-week academy they just completed. There were 93 students in their cohort when they began in September 2017, he said, though only 15 saw it through to completion.
"I'll never forget everything we went through together," he said.
While the world of policing is under unprecedented scrutiny, Sheehy said he had no doubt his newly sworn colleagues have what it takes to make a difference in the profession. "We are the change the world needs," he said.
University President Richard S. Lapidus commended the officers for their success navigating the singular expectations placed on students in the police program, who must abide by strict academic, behavioral and physical standards. "Your commitment and your passion for your chosen career is admirable and commendable," he said.
Municipal Police Training Committee Interim Executive Director Robert J. Ferullo Jr., the retired chief of the Woburn Police Department, told the graduates their training would serve them well throughout their career. "We're not just turning out police officers today; we're turning out educated future police leaders," he said. 
Ferullo also said while the new officers were entering the profession during a turbulent time, they should not despair. "Don't worry about police reform," he said. "You do what's right and you're going to be fine."
Fitchburg State Academy Director Lisa Lane said the members of the 4th ROC were exceptional, undeterred in their commitment to rise to the challenges of their program of study and in pursuit of their career goals. 
"Be safe, and go out there and be outstanding," she said.
The keynote address was given by Worcester Police Chief Steven M. Sargent, who thanked the graduates for joining the thousands of officers who gathered this summer to mourn the death of Worcester Police Officer Enmanuel "Manny" Familia, who was killed trying to rescue a drowning teen.
Chief Sargent also talked about the singular challenges of the past year, from the ravages of the COVID-19 pandemic to massive protests over police conduct, to the heartbreak experienced in his own department by Officer Familia's death. Still, he said, policing is a noble and satisfying profession.
"You are all now members of the thin blue line," he said. "You will have countless opportunities to change lives and to save lives."
Fitchburg State's "4+1" police program was developed in collaboration with the MPTC. The academic curriculum of the academy is woven into students' four-year undergraduate careers, with a 17-week academy occurring after the achievement of bachelor's degrees, followed by a one-year master's curriculum. Graduates of the program are "street ready" upon completion, saving police departments valuable resources. Learn more at https://www.fitchburgstate.edu/academics/programs/police-program-41-concentration-criminal-justice-bs.
The members of the 4th ROC are:
Nolan J. Baird of Fitchburg

Shannon M. Burke of Salem

Evangeline Cakounes of North Harwich

Draine Colon-Rivera of Holyoke

Ryan T. Costello of Holyoke

Kaelen B. Farragher of Upton

Spencer D. Fuller of Framingham

Brandyn J. Geldart of Auburn

Caleb M. Gonsalves of Mashpee

Connor D. Guilbeault of Dartmouth

Troy J. Paradise of Worcester

Drew S. Ridenour of Mashpee

Timothy N. Sheehy of Wakefield

Cody R. Soderlund of Middleboro

Colin J. Thomas of North Falmouth