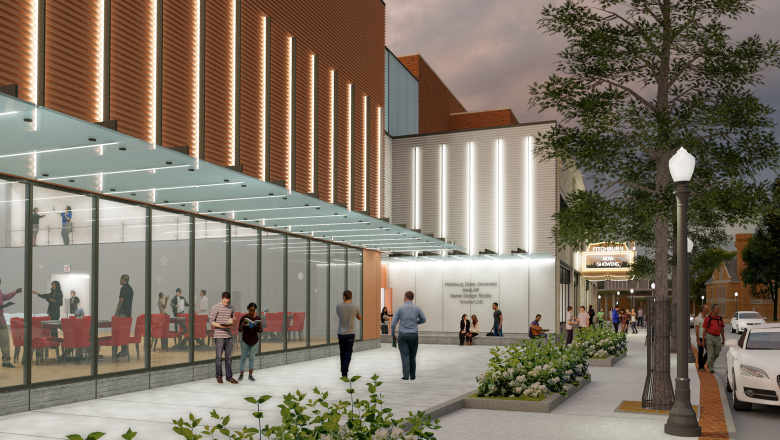 The Massachusetts Cultural Council has awarded Fitchburg State University $200,000 toward the construction of a state of the art "black box" theater to be constructed on Main Street, adjacent to the historic theater building that will be renovated as part of a comprehensive performing arts center.
The theaterLAB, as it will be known, will comprise 16,240 square feet of new construction and accommodate 250 seats. The site will establish an ADA-compliant incubator for student experiential learning and a venue for campus and community arts and humanities programs. The grant program is administered by the Massachusetts Cultural Council and MassDevelopment. 
"We are grateful for the Massachusetts Cultural Council and MassDevelopment's support of our transformative vision for Fitchburg State and this region as a destination for arts and cultures," University President Richard S. Lapidus said. "We are proud to be part of a renaissance of economic investment and vibrancy in downtown Fitchburg, and this investment by the MCC will continue the momentum. We appreciate the support from Gov. Healey's administration and our local legislative delegation."
Fitchburg State purchased the long-dormant theater block in 2016. Its first phase of renovation, completed in 2018, included game design studio space for students and the interdisciplinary ideaLAB that supports creativity and entrepreneurial innovation. The theaterLAB marks the second phase of the project, which is expected to break ground in the next year. The third phase will include renovation of the historic theater building itself. Built in 1929, the renovated theater will accommodate 1,200 visitors.
The theater project has already drawn considerable financial support from municipal, state and national sources, and is often cited by private investors as a catalyst for their own downtown developments.
Including the theater project, more than $250 million in public and private investment within Fitchburg's downtown corridor has been completed or is in development. These investments include anchor projects such as the $23.5 million restoration/renovation of Fitchburg's historic City Hall, the $34 million conversion of the former B.F. Brown School into a 60-unit affordable artist living/work space known as the Fitchburg Arts Community, and the $40 million renovation and expansion of the Fitchburg Public Library.