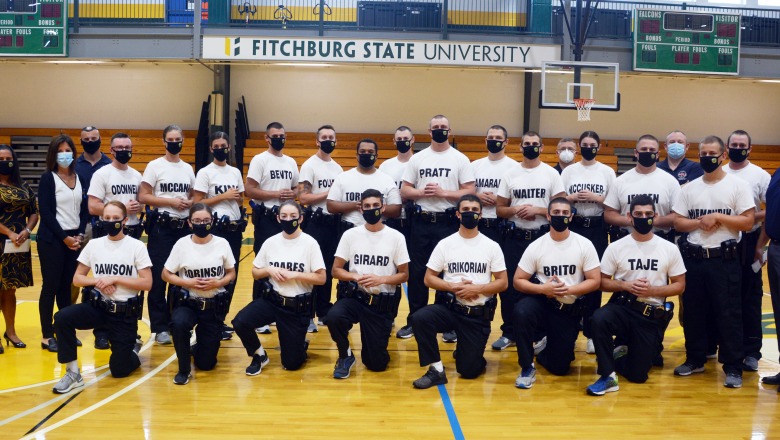 The Officer Ronald Tarentino Jr. Charitable Fund has pledged more than $7,000 to Fitchburg State University's police program to help defray the cost of personal safety protection vests for these future officers.
The fund was established in honor of Auburn Police Officer Ronald Tarentino, who was killed in the line of duty on May 22, 2016.
"We are profoundly grateful to the Tarentino Charitable Fund for their support of our police program and their commitment to officer safety," Fitchburg State President Richard S. Lapidus said. "Officer Tarentino's legacy of compassion and service stands as a powerful example for our students, who will never forget his sacrifice."
"The Officer Ronald Tarentino Jr. Charitable Fund is honored to sponsor young men and women who are leading the way in community service," the Board of the Charitable Fund said in a statement. "This is a big responsibility. Our mission is to work hand in hand with organizations as well as community members to support and demonstrate acts of kindness, generosity and community service to individuals in need.
"The Officer Ronald Tarentino Jr. Charitable Fund has supported first responders and military families during loss, illness and tragic events, community members who have experienced loss and tragedy, and organizations that continue to aid, support and work together to build a better community," the statement continued. "We are pleased to partner and offer this scholarship to Fitchburg State University Police Academy in memory of Officer Ronald Tarentino Jr."
Members of the third recruit officer course of Fitchburg State's police program are now enrolled in a 15-week summer academy, after which they will begin their master's degrees in criminal justice. The 21 members of the class completed their bachelor's degrees in criminal justice in May, and at the end of the academy will be certified to work as police officers in Massachusetts and New Hampshire.
The program, developed in close collaboration with the state's Municipal Police Training Committee, is believed to be the first of its kind in the nation. The program was recently featured in the July issue of Police Chief magazine, published by the International Association of Chiefs of Police.