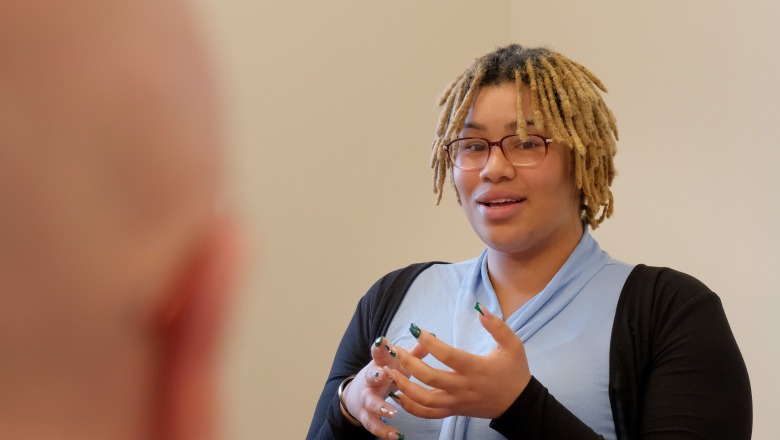 Ayanna Beach '23 credits her professors at Fitchburg State for inspiring a love of entrepreneurship.
The Boston native had long contemplated a career as a veterinarian, but the coursework and its reliance on science and math were not what she had in mind. "I thought maybe I should try something else," she recalled. "I always had an interest in working for myself, but I had a lot of misconceptions about business. The faculty here have been the most helpful teachers I've ever had. It's been really eye-opening and it's made me believe in myself."
Beach is now president of the student Entrepreneurship Association, and recently got to meet with State Rep. Jon Zlotnik and Wachusett Business Incubator Executive Director Magnus Carlberg and others for a roundtable discussion on creating opportunities for students to collaborate with the regional business community. The session was convened by Professor Michael Greenwood, chair of Fitchburg State's Business Administration Department.
Zlotnik recalled his efforts to create the business incubator in 2012, noting the need in the area to support entrepreneurs in bringing their visions to fruition. Helping businesses thrive supports the region's economy, he said, as local high school and college graduates will stay in the region if there are opportunities for them to grow their careers.
"We're looking for synergies," said Greenwood. "If there's an opportunity for us to work together, we should be doing that." 
Assistant Professor John Lohmann, who serves as advisor to the Entrepreneurship Association, noted the university is working on a certificate program in entrepreneurship. "My goal is to provide an opportunity for our students to be the next entrepreneurs," he said.
Carlberg said he appreciated the opportunity to meet with business students and faculty to discuss future collaborations. "I'm really excited about what we can do with Fitchburg State," he said. "There's a lot that can happen working with our organizations."
Beach said she looks forward to advancing her own business plan through the university's collaboration with partners like the business incubator. She is developing a line of activewear for plus-sized people, called Unapologetic Shape. "I want it to be a platform that brings awareness to women who are heavier but who have disorders that make it hard to lose weight," she said. "The activewear industry is very one-sided. I'm not trying to exclude people who are smaller, but to bring representation. The biggest thing I'm trying to fix is make plus-size clothes more affordable."
Business student Sophie Mitchell said she was grateful for the support and mentorship of her faculty, whose guidance has opened her eyes to what she can achieve. "Having these mentors is so important to me," she said. "One person doing amazing things is an opportunity for others to be amazing."