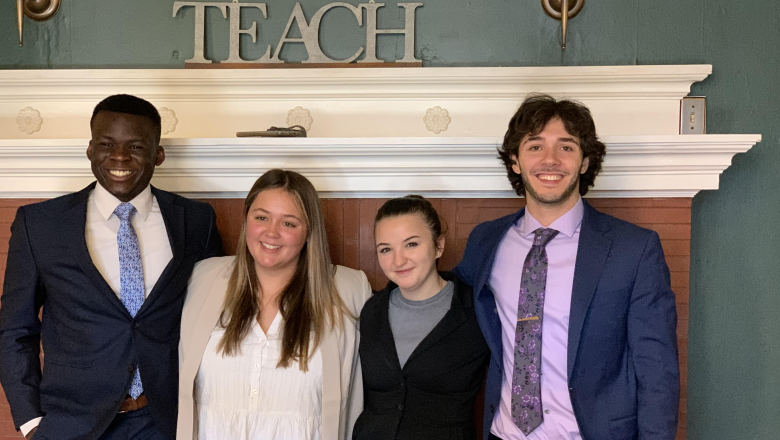 Members of Fitchburg State University's Moot Court team are headed for the nationals in January after a strong showing at the Eastern Regional Tournament last weekend.
The American Moot Court Association hosts 15 regional qualifying tournaments across the U.S., where the top 20% of finishers advance to the national championship. There were 54 teams from 25 colleges and universities at the regional tournament held Friday, Nov. 19 and Saturday, Nov. 20.
Fitchburg State team members Maylynn Velazquez of Leominster, a senior majoring in political science, and Benjamin Hill of Troy, N.H., a senior majoring in political science and history, will advance to the national tournament. Students Miranda Gustin of Leicester and Anthony Marcella of Boxborough also performed well, defeating teams from Georgia Southern, Western Connecticut, Framingham State, and Liberty University, scoring high enough to earn their own berths to the nationals.
"The competition was a tough one, the teams were competitive, and many were schools that were seen as more prestigious than Fitchburg State," Vazquez said. "Regardless, my partner and I persevered, landing ourselves a spot to nationals and winning every single one of our ballots on day one of regionals. We are prepared and ready to go to nationals and that is exactly what we presented at the regional competition. I am beyond excited as we prepare for the competition, we have more knowledge than ever before and I am ready to showcase that on a national stage." 
"I knew the competition would be tough, but I felt as though on the first day we were unparalleled in terms of knowledge and argument structure," said Hill, recalling a sweep of opponents on the first day of the competition and a strong start to the second day, as well. "The team that beat us ended up winning (the regional tournament), so we were right there with the best."
"I was definitely nervous going into the first round, but I think our confidence grew pretty quickly after that," said Marcella. "We had a strong feeling that we could do well, and we are just happy our hard work throughout the semester paid off. I'm definitely honored to be grouped with the nation's best in this competition." 
"The way to nationals was not easy, and every one of our team members earned it," said Gustin. "I am so happy with the outcome of our tournament and I'm thankful for the people that got us there. We could not have done it without any of them. We have a lot more work to do but I am so excited to see what nationals has in store for us."
Professor Paul Weizer, who founded and coaches the university's moot court program, noted that Fitchburg State was the only institution in Massachusetts to qualify a team for the national tournament.
"These students came a very long way this semester and performed extraordinarily well against some of the top schools in the nation," Weizer said. "Our students stood toe to toe with them. I am very proud of what they have accomplished."
This year's hypothetical case has students arguing whether a presidential vaccine requirement violates the U.S. Constitution. In the competition, teams of students argue either side of a case in which a man refuses a federal vaccine mandate on the grounds it would violate his personal right to make life-shaping decisions and to preserve the privacy and integrity of his body, and that the mandate itself violates due process rights.
The national tournament will be conducted virtually in late January.
Fitchburg State has a long and distinguished history with the tournament, sending students to nationals each year since the campus program's inception in 2000. Earlier this year, the American Moot Court Association ranked Fitchburg State in its top 20 programs nationwide.