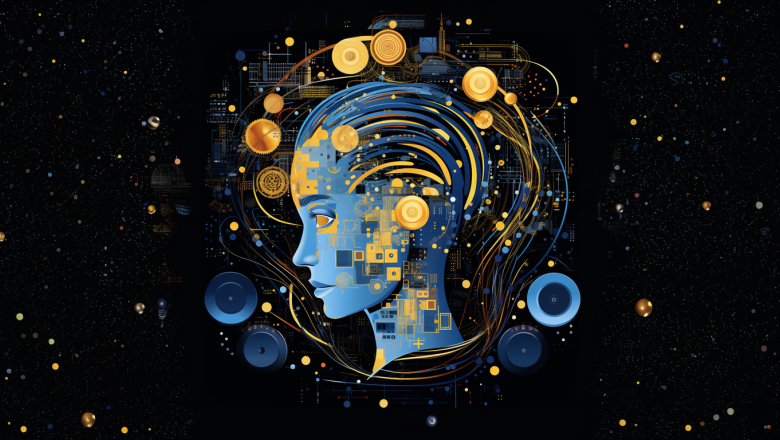 Artificial intelligence (AI) is rapidly changing the creative landscape. Fitchburg State University, which last year launched a new major in digital media innovation, will be showcasing how its students are employing the medium's powerful tools at an open event on Monday, Oct. 23.
The generative AI showcase, being presented to stimulate creativity and foster collaboration, will take place at 3:30 p.m. Monday, Oct. 23 in Randall Lecture Hall in the Antonucci Science Complex. Admission is free and open to the campus and general public.
Fitchburg State's Digital Media Innovation (DMI) major offers students an innovative and adaptive pathway model that provides cutting-edge digital skills through hands-on experiential learning. Through these projects, students may demonstrate the way that digital technology and computing are changing social and cultural systems in commerce, the law, the arts, and the broader human experience. 
Associate Professor J.J. Sylvia's Creative Coding class will have their work featured as part of the showcase, which is open to all members of the campus community, with submissions to include (but not limited to) the following:
Poems, stories, or journalism collaboratively written with AI
Creative coding projects that feature code or media generated by AI
Films/videos that feature images and/or audio generated by AI
Generative Art Installations: Physical or digital art installations where generative AI contributes to the art-making process.
Musical Compositions: Pieces of music that are composed or performed in collaboration with AI algorithms.
Language and Cultural Projects: Linguistic studies or cultural commentaries that make creative use of AI to understand or represent human culture.
AI in Theater: Plays or skits where dialogues, scenes, or plots have been generated or modified by AI.
The showcase is intended to be the first in an annual series of creative events within the new major, Professor Sylvia explained. Generative AI was selected as the inaugural event's focus because of its rapid expansion in ability and use.
"Our aim is to inspire creativity and collaboration across campus through these events, each featuring a different theme every year," he said.
Learn more about the major at https://www.fitchburgstate.edu/academics/programs/digital-media-innovation-babs.