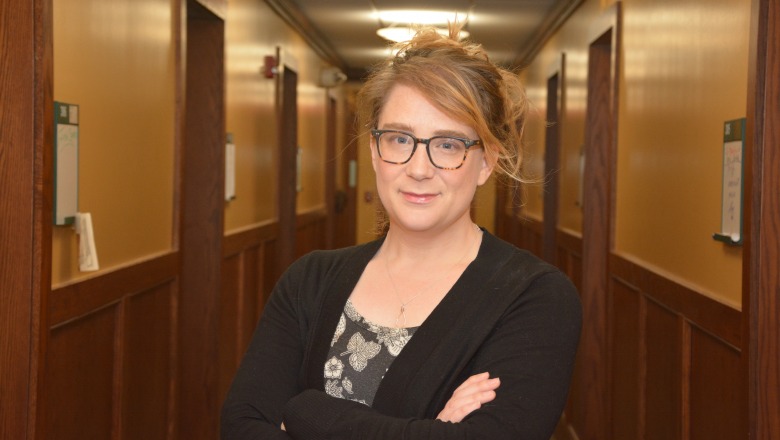 Fitchburg State University Professor Katherine Jewell has been selected by the Library of Congress to join a digital humanities program tasked with preserving college and community radio recordings.
Professor Jewell, a member of the university's Economics, History and Political Science Department, was appointed co-chair of the College and Community Radio division of the Radio Preservation Task Force of the Library of Congress National Recording Preservation Board last year. Her new responsibilities will see her joining the curatorial team of its recently launched Sound Submissions program, through which community and private collectors will be encouraged to share digitized recordings and associated metadata for the permanent digital archive at the Library of Congress.
The history of college radio has been a research topic for Professor Jewell for several years, who has two books on the topic in development. One of them confronts the richness of sources of radio history as well as their scarcity and endangered status. 
"Many recordings of college and community radio reside in private collections, often on tapes stored in attics or basements," Professor Jewell said. "This project looks beyond the research topic of my book and aims to preserve these sources for future researchers and ensure the diversity of the nation's archival holdings and cultural history."
Through the Sound Submissions program, collection holders preserve their digital files while retaining the original, physical media. Digital recordings are maintained by the Library's National Audio-Visual Conservation Center in Culpeper, Virginia, and library users can listen to recordings onsite at the NAVCC's Recorded Sound Research Center in Washington, D.C.
Sound Submissions addresses the crucial need for long-term digital preservation solutions for sound materials while expanding and diversifying the range of cultural and political representation in national collections. Through this initiative, the RPTF and Library of Congress aim to promote preservation and public knowledge and appreciation of national audio heritage, ensuring recordings are successfully preserved and accessible to current and future generations.
"As an affiliated scholar with this program, Fitchburg State becomes part of an extended network of scholars, archivists, and institutions dedicated to the work of preserving the nation's cultural history and recorded sound," Professor Jewell said. "As a state institution dedicated to community engagement, Fitchburg State is uniquely positioned to coordinate such collection, curation, and scholarly work.