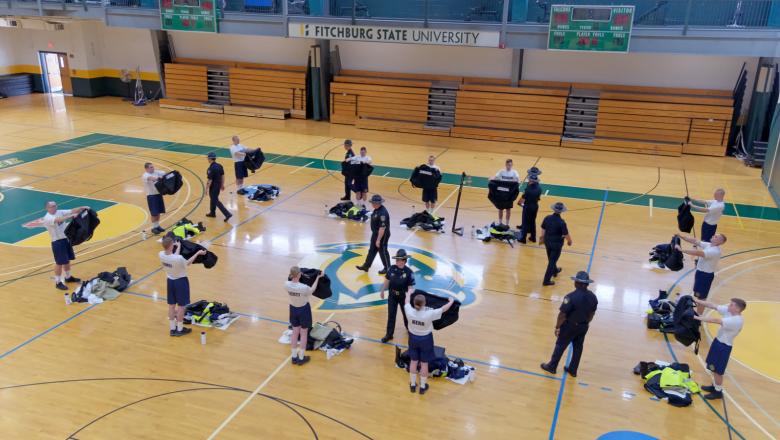 Fitchburg State University marked "day one" of the sixth recruit officer course (ROC) for its police program on Wednesday, with 12 recruits who finished their bachelor's degrees last Saturday embarking on a 17-week police academy. (See photos from day one on the university's Burg Blog.)
In September, those who finish the ROC will be certified as police officers ready to report to municipal police departments in Massachusetts and neighboring states.
The university's groundbreaking police program was developed in collaboration with the state's Municipal Police Training Committee, which authorizes academies across Massachusetts. The academy's drill staff includes MPTC - certified instructors from area police departments. 
The academy represents the first 12 credits toward the graduates' master's programs in criminal justice. 
Since the police program's inception, most of the recruit officers have had job offers in hand before completing the academy.
Day one is designed to be a challenging experience, preparing future officers to cope with stresses they will experience during their careers. Over the next 17 weeks, the recruits will undergo training in a variety of areas including defensive tactics, weapons qualification, emergency vehicle operations and patrol procedures, as well as specialized classroom instruction.  
Academy Director Lisa Lane welcomed state and university officials to day one on Wednesday, explaining to the recruits that support for Fitchburg State's police program is widespread.
Fitchburg State President Richard S. Lapidus greeted the recruit officers and expressed the university community's pride in their commitment. Throughout their undergraduate studies, the police program recruits are held to strict academic and behavioral standards. 
"You should feel proud of getting this far," Lapidus said. "The drill instructors have done a great job preparing you. I wish you all the best and I'm sure I'll see you in September."
MPTC Basic Training Division Manager Ron Paula also addressed the recruit officers. "Your career starts now," he said, encouraging them to become familiar with the communities they will be serving. "This is definitely a great path you've put yourselves on, and I wish you the best of luck."
University Police Chief Michael J. Cloutier, who is the official sponsor for the recruit officers during their time in the program, offered words of encouragement.
"What you have right now is an opportunity," he said. "You have to earn every step of the way. Everyone here is invested in your success, but it's up to you to make that happen."