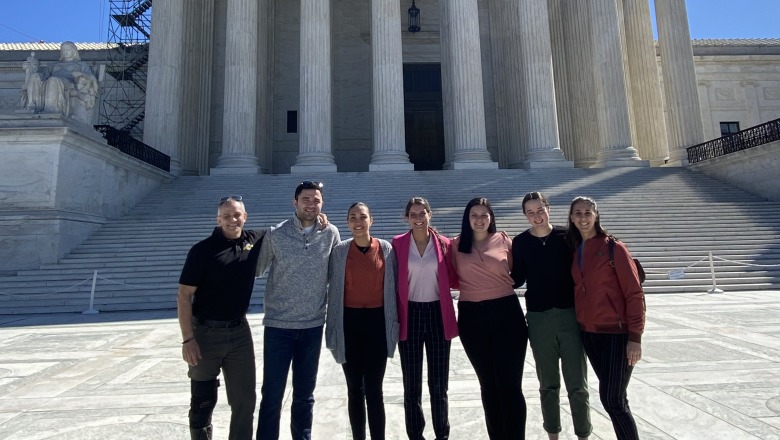 Students, faculty and staff from Fitchburg State University presented to a national audience at the Academy of Criminal Justice Sciences this month in Maryland, sharing a view of its groundbreaking police program that integrates undergraduate education and police training.
The university delegation traveled to National Harbor, Md., for the conference, which included presentations on topics like court processes and post-conviction treatment and re-entry.
In Fitchburg State's program, graduates complete bachelor's and master's degrees plus full certification to work in municipal police departments in Massachusetts and neighboring states. It is believed to be the only program of its kind in the nation.
At the national conference, Assistant Professor Katherine Hazen chaired a panel talk on the university's police academy that included Academy Director Lisa Lane McCarty as well as Professor David Weiss and Assistant Professor Michael McCutcheon. Student Jenna Morse also discussed her experience in the program.
"I had never attended the ACJS conference before and was thrilled to attend this year," said Lane McCarty. "It was a great opportunity to network with academic professionals from all over since it is a national conference, and I felt fortunate to have the opportunity to present on our Police Program. There were attendees in our session from all over the country and they were extremely impressed and interested in what we are doing here at Fitchburg State."
Fellow students from the university's Criminal Justice Club and Honor Society also attended several days of the conference, and visited the Supreme Court in Washington, D.C. during their travels.
Aidan Nemer, vice president of the Criminal Justice Club, attended seminars on topics including the challenges facing police recruitment and retention of law enforcement, as well as police use of force, law enforcement technology, and community perceptions of police.
"During these seminars, I learned a lot from the contagion shooting theory to statistics on the physical and mental health of police officers and how police departments can improve the overall wellness of their officers," Nemer said. 
Nemer said he noticed widespread interest in Fitchburg State's police program model. "Attendees were from all over the country and were intrigued by the program," he said. "Hearing the responses and questions during the question-and-answer session emphasized how unique and innovative our police program is." 
Nemer traces his own interest in the profession back to his youth, and enjoying the many police shows on television. An internship with his hometown police department in high school only reinforced his passion.
"I loved every aspect of the job, from learning each position in the department to running lights and sirens during a ride along to a call and feeling an adrenaline rush," he said. His mother found out about Fitchburg State's police program and he was excited to pursue it.
At Fitchburg State, Nemer has worked security with the University Police Department since his freshman year and was recently hired by the Fitchburg Police Department as a civilian traffic control specialist. 
"I have been very grateful for all the opportunities I have had," he said. "With these opportunities I gained knowledge in the field and grew a passion for community engagement. Currently, police officers around the world, but especially in the United States, are not very liked. I want to be an officer that anyone can go to for anything and I want to be involved with my community. Any opportunity that I can get to help someone on their worst day, I would love to have. I am still very passionate and motivated even through the difficult environment in the field currently. I plan to finish my Police Program path by graduating from the police academy next year and hopefully join a municipal police department shortly after."
Student Jordyn Gagliardi also found the experience eye-opening. "I learned a variety of ideas and lessons from the sessions, including how to maintain my mental health on the job as a future police officer, the views of the community and how you can influence those as an officer, we learned about a similar police program to ours, the effects of use of force, and different technologies used in law enforcement," she said. "In terms of the whole experience, I thought it was amazing and I was blown away."
Gagliardi traces her own interest in law enforcement to other family members' history in the profession as well as admiration for her hometown of Dalton's Police Chief Deanna Strout. "Everyone loves and deeply respects her," Gagliardi said. "I always knew that I want to be like her as a police officer."