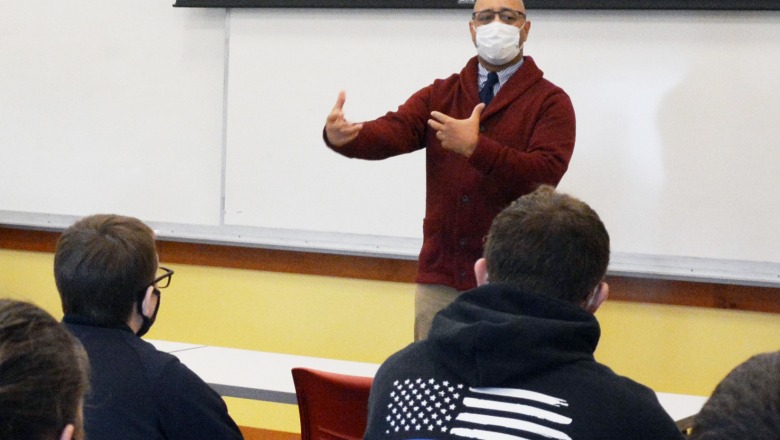 Edward Denmark had a long and distinguished career in law enforcement, including 18 years as chief of police in the town of Harvard. But rather than transition to a quiet retirement, he is only ramping up his efforts to help transform a system he sees as in need of repair.
Last fall, Denmark joined the Fitchburg State University Behavioral Sciences Department as a visiting faculty member. He has been an adjunct professor for many years, and was at the table when the university's groundbreaking police program was first being developed. In that program, graduates over five years complete bachelor's and master's degrees as well as full certification to work in municipal police departments in Massachusetts and elsewhere. Its fourth recruit officer course graduated in September, and officers from the program are serving in departments across Massachusetts and New Hampshire.
Denmark sees Fitchburg State's police program as a model for the profession, linking theory and practice. "There's so much going on in society right now, and policing is right in the middle of it," he said. "There's a cry internally in policing for some kind of change. We need to close that 'trust gap.' That keeps my fires burning."
Himself a 1998 graduate of Fitchburg State, Denmark has become a recognized thought leader in the policing profession, visiting departments across the U.S. and the world and consulting on how to adapt to changing times.
"I see this as a cyclical thing," he said. "The only thing that hasn't changed is people. Why aren't we looking at what causes people to think and feel and make decisions the way they do? For the most part, we're talking about good people who make bad decisions in the moment. Let's look at how people make decisions. Let's look at the role of bias. Let's look at the role of stress."
Denmark is a believer in changing how officers are trained so they approach calls from a different perspective, cognizant of all those factors. "If you exercise that type of thinking beforehand, you're in tune with that thought process before you get to that moment," he said.
In his role this academic year, Denmark is seeing all of the university's criminal justice students, including those in the police program. "Everyone comes in here with preconceived notions of what policing is," he said. "My idea is, I want to strip them of everything they think policing is. I want to wipe the slate clean."
His lessons are resonating with Fitchburg State's students.
Michael Masterson '22 of Pepperell, currently class leader in the police program, has always been interested in a career in law enforcement and has his sights set on working for the federal Department of Homeland Security. "It's a career path where you're not doing the same thing every day," he said.  
Masterson said Denmark has been an effective instructor during the class meetings he has led. "It's about mindfulness, and taking a step back before you make a decision," he said. "It's easier to look back at a situation after the fact. When you're in the moment, you need to understand what you're walking into. He's shown us you need to take a moment to process, and think about why we react the way we do, to anything."
With the close watch on the police profession in recent years, Masterson said he feels well-prepared to enter it himself. "There's a lot of room for improvement in the profession," he said. "It makes me want to pursue it more. My thinking can help bring about the positive change."
Tristan Straker '22 of Lawrence first approached Fitchburg State with a plan to study game design or engineering. But when he learned about the university's police program, he thought of his own grandfather, who had harbored dreams of a career in law enforcement but was unable to pursue them.
"I always liked the profession, but didn't know about the steps involved," Straker said. Another student in the police program inspired him to explore it, and Straker said he is grateful for the pivot.
He said Denmark's lessons have illustrated the power that future officers like himself have to help the profession evolve. "I'm an individual that wants to do good in the world, and I don't want to be the person to be unfair to anyone else," Straker said. "We've talked about a lot of sensitive topics, and I feel like (Denmark's) contributions to the program show us what injustice looks like, and the gears in our brains start to turn."
Straker said Denmark has also been an effective advocate for officers attending to their own mental health and destigmatizing treatment. "Most officers think that because you're an officer, you can't have trauma," said Straker, who has long been interested in the intersection of mental health and policing. "If you need therapy, go to therapy."
Alexia Surprenant '22 of Dracut credits her mother with instilling in her a deep desire to help others, which she modeled by volunteering at food banks and helping at community food drives. A conversation with the school resource officer at her high school helped point her toward the police program, she said. "As soon as I was accepted, I was full steam ahead," said Surprenant, who is interning this semester with the Ayer Police Department.
The university police program's structure and culture of discipline resonated with Surprenant, who said her time as a student-athlete working for strict coaches helped prepare her. As she nears the end of her bachelor's degree, she is even more determined to follow her chosen career path. "Now I get the chance to say I'm confident in my skills and I'm confident in the knowledge I've gained through the courses I've taken," she said. 
Those skills have been complemented by her experiences with Denmark. "When I first met Chief Denmark, I was so excited," Surprenant said. "I appreciate the way he takes these potentially uncomfortable conversations and opens the door for us, as students, to talk about them."
She recalled a juvenile justice class where Denmark broached the topic of biases, and said everyone carries biases and the important thing is to recognize them and work on ways to see past them.
That self-reflection also applies to emotional and mental health. "He really wants us to think about our emotions, and how to process them before we get to the job," she said.
Fitchburg State Academy Director Lisa Lane McCarty said Denmark has been a meaningful addition to the program. 
"I have been so fortunate to have known and worked with Ed for the past 31 years," said Lane McCarty, who completed her master's degree with Denmark at Fitchburg State in 1998. "Ed has always been ahead of his time. He is a forward thinker and one who has always questioned if - and how - we could do things better in policing. I was thrilled when he accepted the position here and our police students are fortunate to have the opportunity to learn from him."
At this moment of cultural change within the policing profession, Denmark sees ground-level opportunity starting with new ways of training, as in Fitchburg State's program.
"This is not a criminal justice problem, and this is not a police problem. This is a system, all the departments have to work in concert," Denmark said. "Can we develop a common purpose across all these disciplines? It can be done."