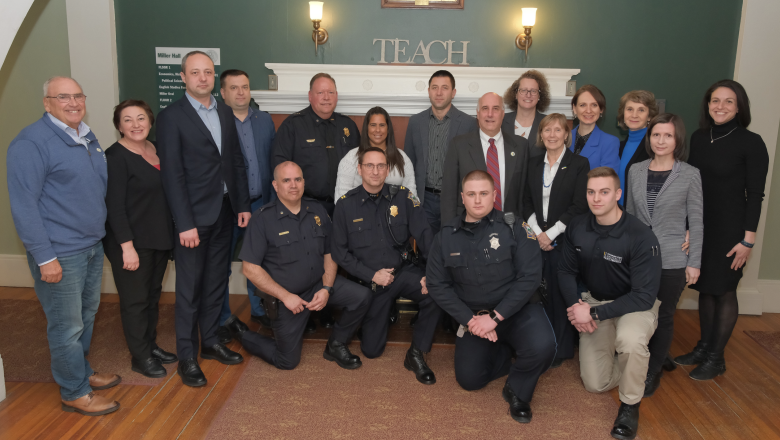 Fitchburg State University welcomed a delegation from the nation of Moldova to campus this week to demonstrate its groundbreaking police program, whose graduates complete two academic degrees and full municipal police academy training in the span of five years.
University President Richard S. Lapidus, Fitchburg Police Chief Ernest F. Martineau and Fitchburg State Academy Director Lisa Lane McCarty outlined the program for the delegation, including police and education leaders from the Eastern European nation. (See additional photos from the visit.)
The study tour, implemented by PH International, is supported by the U.S. State Department Bureau of International Narcotics and Law Enforcement Affairs. The tour was part of a program exploring how to increase Moldovan youth's understanding of civic rights, responsibilities and the rule of law.
"It's truly my privilege to give you an insight into what I think is the future of policing in the United States," Chief Martineau said. "Even though we may not speak the same language, our needs are the same and our passions for our shared professions are the same."
Chief Martineau noted he has hired four graduates of the police program for his own department and spoke highly of their preparation and performance in a job that increasingly calls on professionals who can de-escalate and control situations without using force.
Fitchburg State's police program was developed in collaboration with the state's Municipal Police Training Committee, folding the traditional academy's curriculum into the university's undergraduate criminal justice program. Following the completion of bachelor's degrees, program participants complete a 17-week academy and receive certification to work in municipal police departments across Massachusetts and neighboring states. They are then able to embark on their master's degrees in criminal justice.
"Many if not most of the students wind up with employment offers prior to graduating," President Lapidus told the group.
Lane said another advantage of Fitchburg State's program is the depth of familiarity with enrolled students, who must abide by strict standards of conduct and academic performance in order to graduate. "We basically vet them in terms of integrity, academics and honor for four years," she said. "If they have conduct issues, academic issues or integrity issues, they can be dismissed from our program."  
Deputy Chief of the General Police Inspectorate Alexandru Bejan said he was impressed by the novelty of Fitchburg State's program. "We need police officers to be prepared, not just with knowledge, but to be trained morally and psychologically," he said. 
Deputy Chief Bejan asked specific questions about the program curriculum.
"This was a lot of work, and part of this was blending two very different cultures: the academic world and the policing world," President Lapidus said. "It's extra challenging for the students. They're held to a different standard because of the discipline of the police culture."
Head of Human Resources of the Department of the General Police Inspectorate Andrei Zagoreanu said the university and police departments should be commended for their important work, and asked for additional information on the program's curriculum and assessment measures.
Ministry of Education and Research Senior Consultant Corina Lungu said she appreciated the presentation. "You have truly inspired us and we are very grateful for the support," she said. 
Retired Fitchburg Police Chief Edward Cronin, whose professional consulting experience includes three years working as a senior police advisor to Moldova, is joining the delegation for their trip to the U.S.
"There's no accident why you're here," he told the visitors. "This is my home city, this is my police department, and this is my university, and I am extremely proud of all of them."
Fitchburg Police Officer Grant Jensen, a graduate of the police program, spoke highly of his experience. "It sets you up with a good foundation," he said. "The recruits that are there want to be there."
Current student Jonathan Revil will be attending the academy this summer. He was asked why he is pursuing a career in policing. "I couldn't see myself sitting behind a desk all day," he said. "I want to be out in the public interacting with people."