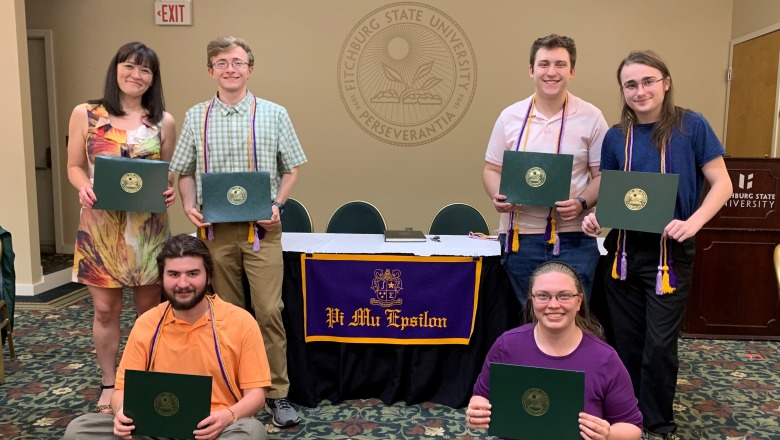 The Mathematics Department hosted an induction ceremony on April 6 in President's Hall for the Massachusetts Eta Chapter of Pi Mu Epsilon (PME) national mathematics honor society. 
Five students and two faculty members were inducted into the society. Student inductees are Cameron Davis, Dylan Dandy, Cooper Rogers, Benjamin Wiita, Fyodor Berkovich (not pictured). Faculty inductees are Jessica Oehrlein and Elisabet Takehana.  
The induction was organized by Professor Mary Ann Barbato (chapter advisor). Mathematics faculty members spoke about each of the inductees before they made their pledge. Guest speaker, William Martin from WPI, presented You do the Math!  
Chapters of Pi Mu Epsilon may be chartered only at academic institutions whose standards are excellent in all the liberal arts and particularly so in mathematics. 
Fitchburg State's Massachusetts Eta Chapter of PME was established in Fall 2007 after a detailed application and approval process and was the third public institution in Massachusetts to establish a PME chapter. Massachusetts Eta PME members have given presentations at conferences, including PME national meetings at MathFest and have also participated in math contests, problem solving sessions and other activities. New Massachusetts Eta PME members will be given the opportunity to attend and present at this year's PME conference to be held in Tampa, FL in August.