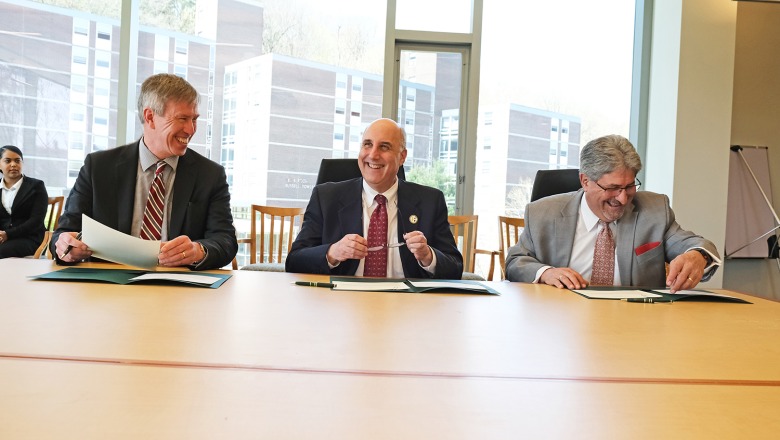 A newly expanded partnership between Fitchburg State University and the Fitchburg Public Schools is designed to increase the number of teacher candidates who are representative of the local community demographics, with a mixture of scholarship and experiential support and guaranteed jobs with the school district following completion of their college degrees.
Fitchburg State President Richard S. Lapidus and Fitchburg Public Schools Superintendent Robert M. Jokela signed the new memorandum of agreement for the pathway program on Thursday, May 5.
"Since our founding in 1894, Fitchburg State has been supporting our communities by preparing highly qualified educators for schools in Massachusetts and beyond," President Lapidus said. "This partnership builds on that history, supporting the evolving needs of our communities while creating singular opportunities for Fitchburg State students."
"High-quality, classroom-ready teachers are needed to educate all students, encouraging differences and teaching in ways that foster belonging and passion," said Superintendent Jokela. "This groundbreaking collaboration will improve the learning experience of future teachers while diversifying the ranks of educators in our classrooms."
Fitchburg State Dean of Education and Business Nancy Murray said research shows the value of students being able to see themselves in their teachers. The new pathway will create opportunities for future educators to return to their community schools as well-prepared and highly-trained educators.
"The innovative program which we have created with FPS really allows opportunities for students to become educators that are representative of their community," she said.
The program incorporates the university's existing Future Educators Academy, wherein local high school students can achieve microcredentials at the university starting in their freshman years. Upperclassmen at Fitchburg High can take part in the university's Early College program, earning university credits. They can also work in academically embedded summer jobs through the school district.
The high school students in the program can also access scholarship funds and peer and faculty mentorship opportunities from the university.
"Part of doing this is to help them have a connection to Fitchburg State, to see themselves coming to Fitchburg State, and for them to have someone to go to," Murray said. "We know that when students come to a campus, even if they just have one person that they can go to, that makes all the difference in the world for them to be successful."
Once enrolled at Fitchburg State, the university will provide them with ongoing academic and financial supports, including up to $1,000 per semester toward their schooling in their junior and senior years.
"It takes students, starting in their freshman year of high school, helping them to see their potential, helping them to come into Fitchburg State University with supports, and then being promised positions back in the Fitchburg Public Schools," Murray continued. "They're back in their community, and their community has the opportunity to have educators that represent themselves."
Fitchburg Mayor Stephen L. DiNatale said the program exemplifies the spirit of collaboration enjoyed by the city and the university and will support an important objective by creating a pipeline to fill staffing needs. "It's always a challenge to get qualified staff who look like the student body," he said.
Fitchburg High School Principal Jeremy Roche said the model being adopted has been in development for many years, and will make a difference for future students. "This has been a journey of multiple years of working together," he said. "We know our greatest asset is our students, and we were trying to think about how we can get our greatest asset to be prepared to be that next generation of teachers.
"We can't wait to get these teachers in the classrooms of the Fitchburg Public Schools, whether that's in kindergarten or grade 10," Roche continued. "Having the opportunity to affect lives, having the opportunity to do where you grew up, is a powerful thing that is going to affect future generations in the city of Fitchburg."
Fitchburg State student Natacha Santiago-Prado spent most of her school years in the state of Washington, where she often felt alienated as a student of Puerto Rican descent in a predominantly white community. When her family moved back to Fitchburg and she enrolled at Fitchburg High School, she said the difference was immediate.
In Fitchburg, she said, she encountered a diverse and welcoming community, where she felt her ambitions to become a teacher were viable. She is about to enter her senior year at Fitchburg State and looks forward to being a role model when she starts her own teaching career. 
"Just to be able to represent my community is a great honor," said Santiago-Prado, a first-generation college student. "I want to create a diverse space for students where students can feel comfortable to share their own experiences and their culture, and don't feel like they should be silenced."
Jadyn Newton, a senior at Fitchburg High School, is enrolling at Fitchburg State to study early education. She is a member of Fitchburg High's Future Teacher Academy, a four-year member of its Best Buddies club, and interns in an art class at the McKay School, located on the Fitchburg State campus.
"At my internship I learned I had this passion for teaching which was definitely life-changing," Newton said. "With this program it will definitely help me be the teacher I want to be."
Yaneliz Rivera, also a Fitchburg High senior, is also a member of the Future Teacher Academy and has worked with Best Buddies for four years. Currently an intern at Longsjo Middle School, she is planning to attend Mount Wachusett Community College in the fall to study education. She also spoke during the signing ceremony.
Objectives of the new partnership include providing Fitchburg State teacher candidates with frequent opportunities to partake in field experiences and full semester practicum placements in order to gain the necessary skills needed to become highly qualified educators. The collaboration will create supportive and accessible pathways for Fitchburg High students to earn a bachelor's degree and teaching license to reduce the racial and ethnic mismatch between students and teachers. Preference will be given to teacher candidates that are representative of our local community populations.
Further, the Fitchburg Public Schools will benefit by continually welcoming Fitchburg State teacher candidates into their classrooms, with highly qualified teachers modeling best practices while providing candidates with targeted feedback so they will be classroom-ready when hired.
Participating students will be able to apply for paid internship and academically-based summer jobs within the Fitchburg Public Schools, and will be given targeted scholarship support during their college studies. In addition, Fitchburg State will provide opportunities for students to participate in the Future Educators Academy, where they can earn a variety of badges and microcredentials, as well as dual enrollment courses.
The university will also provide faculty advising for participating students starting in their junior year of high school, as well as peer mentors during their collegiate studies. Graduates will also be given access to Fitchburg State's alumni resources upon completion of their bachelor's degrees. 
Upon successful completion of one of Fitchburg State's Massachusetts licensure programs, candidates will be provided employment with the Fitchburg Public Schools as a paraprofessional, teaching assistant, or classroom teacher. The city and the candidate will agree to a two-year employment commitment.