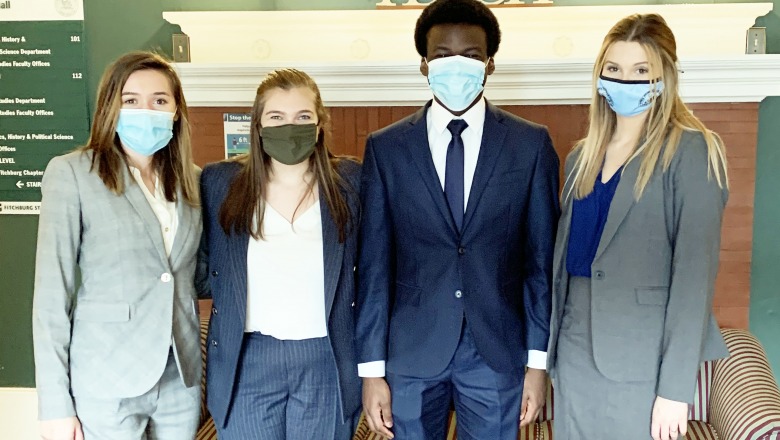 Fitchburg State University continued its winning ways at the recent American Moot Court Association National Tournament, with students placing 5th in the nation (out of 162 entries) in the appellate brief writing competition.
The students in the appellate brief writing challenge were newcomers to the tournament this year: senior Madison LaRoche of East Templeton and junior Benjamin Hill of Troy, N.H.
Fitchburg State seniors Samantha Beauchamp of Sutton and Theresa Dzierwinski of Ludlow also excelled at the regional tournament and advanced to the national competition.
"Both teams performed very well, winning ballots against schools such as Vanderbilt University, The College of Wooster, Liberty University, and Patrick Henry College," said Professor Paul Weizer, who founded Fitchburg State's moot court program and is its longtime coach. "This was probably the most competitive season ever and the competition was fierce. I am very proud of the work these students put in and I am thrilled to see them recognized."  
LaRoche learned about the moot court program – which features teams of students arguing opposing sides of a legal issue, as in an appellate court proceeding – when she took Professor Weizer's course on criminal procedure.
LaRoche, majoring in criminal justice with a minor in psychology, said the course ignited a new passion for her just as she was having what she described as "a quarter-life crisis" in thinking about what her next chapter would be. "I'm especially grateful to Dr. Weizer because he gave me something I love doing," said LaRoche, who is now planning to pursue law school after completing her undergraduate degree.
Hill, who has one more year to complete at Fitchburg State, is also anticipating a career in the law. He is majoring in political science and history.
"The most challenging part was presenting the oral arguments," said Hill, who had some experience with public speaking but had to be prepared to be interrupted by tournament judges – many of whom are lawyers and judges in real life – who challenged their stances.
As a newcomer to the program, LaRoche said her goal last fall was to simply not embarrass herself in the regional competition. "When we made it to the nationals we were so surprised," she said. "We just exceeded every expectation we had."
Competitors make oral arguments and respond to questions from a panel of judges, as well as submit written briefs. For the national tournament, LaRoche and Hill collaborated for weeks, sometimes for 10 hours at a time, honing their arguments. The competitors had to be prepared to argue both sides of the case at any given time.
"I really liked writing the arguments and reading the cases while developing them," Hill said. "It was interesting to read something and then use it for one side in one way and then use it in the opposite way."
This year's hypothetical case revolved around the First Amendment, wherein a business refused to produce invitations for a same-sex wedding because of personal moral beliefs, with the company also being denied business by a local government because of past contributions to organizations declared hate groups.