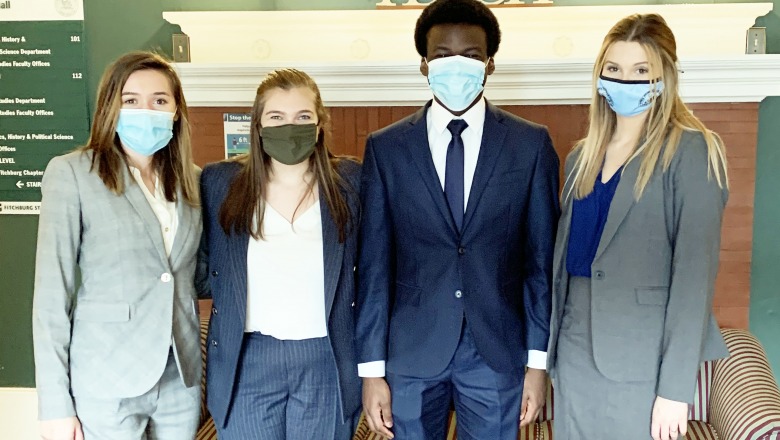 Fitchburg State University is once again sending two teams to the American Moot Court Association National Tournament after another strong showing at the Eastern Regional contest held virtually on Nov. 20-21.

Fitchburg State seniors Samantha Beauchamp of Sutton and Theresa Dzierwinski of Ludlow finished sixth overall out of 54 teams at the regional competition, while senior Madison LaRoche of East Templeton and junior Benjamin Hill of Troy, N.H. finished seventh overall.

The competition features teams of students arguing opposing sides of a legal issue, as in an appellate court proceeding. The competitors make oral arguments and respond to questions from a panel of judges, as well as submit written briefs.

This year's case revolves around the First Amendment. The hypothetical case involves a business refusing to produce invitations for a same-sex wedding because of personal moral beliefs, and also that firm being denied business by a local government because of past contributions to organizations declared hate groups. The business in question argues it is being punished for its associations.

Fitchburg State Professor Paul I. Weizer, a member of the Economics, History and Political Science Department, has coached the university's moot court program since its inception. This year was the first time the competition had been conducted in the virtual space.

"The transition to virtual learning was very challenging for our student body and our moot court group was no exception," Weizer said. "Yet, they persevered and ultimately excelled. I am extremely proud of the work they put in and the results they achieved."

"Moot Court has undoubtedly been the best experience of my undergrad career," LaRoche said. "Through it, I have learned invaluable skills, gained confidence, and made relationships that I know will last a lifetime. I feel incredibly lucky to be part of such an amazing program under the best professor I've had, Dr. Weizer. I truly wish everyone had this opportunity that I have been given and will cherish forever."

Competing skills included Bentley University, Berea College, California State University Fullerton, College of the Holy Cross, Colorado Christian University, Duke University, Georgia Southern University – Armstrong Campus, Liberty University, Meredith College, Merrimack College, St. Thomas University, Suffolk University, SUNY Cortland, University of Chicago, and the University of Georgia.

The Fitchburg State contingent will compete in the national tournament in January.