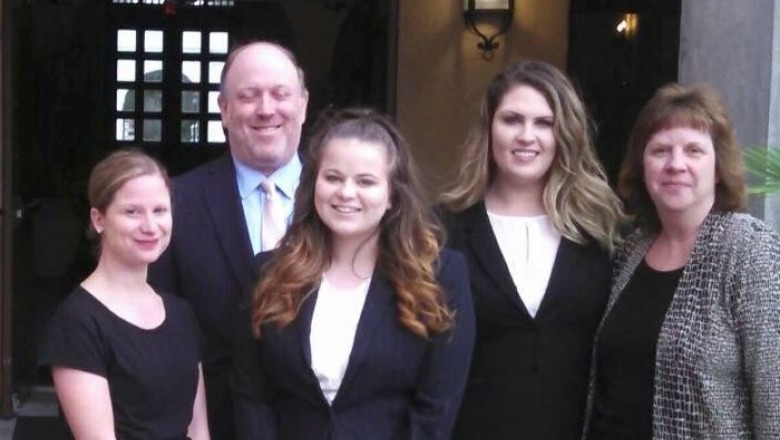 Fitchburg State students Abigail M. Kennefick and Aleah I. Fisher finished 25th in the country at the recent American Collegiate Moot Court Association national tournament in Florida, distinguishing themselves among a field of 360 teams that competed at the regional level and 80 teams at the finals.
Fisher is in her last year at Fitchburg State, as she will be heading to the University of Massachusetts Law School next year as part of a "3+3" program in which students can earn their bachelor's and law degrees in six years. Kennefick is a senior majoring in political science and plans to attend law school next year.
The moot court competition pits students on opposing sides of a legal issue as in an appellate court proceeding, testing their facility with applying interpretations of the law before a panel of guest judges. This year's case concerned the validity of a hypothetical voter identification law.
"This experience was one I won't soon forget," said Fisher. "The lessons I learned and the skills I obtained will help me throughout law school and in my future career. This was one of the most challenging courses I have ever taken, but it was by far the most rewarding. There were teams from all over the country and yet, there was this one moment when we overheard another team saying, 'You better watch out for those Fitchburg girls,' and I think that's a testament to what Fitchburg State students can accomplish. It was incredible to see that we were really able to hold up against the rest of the country."
"The Moot Court national tournament was one of the most challenging, and skill shaping experiences of my undergraduate career," added Kennefick. "Aleah and I faced fierce competition, and through our oral advocacy strength, analytical reasoning and composure under pressure we achieved a spot amongst the top 6 percent in the country. I cannot thank my coaches enough for their guidance in what has undoubtedly been the most influential experience in my education thus far as an aspiring litigator. The real life skills earned in moot court are an invaluable asset as I enter my first year of law school prepared, excited, and, most importantly, confident."
Fisher and Kennefick won two of three preliminary matches on the first day of the national tournament held this month at the Stetson University College of Law in Tampa, Fla., and advanced to the second day of competition. The national tournament included 80 teams from 36 institutions, with just four from Massachusetts.
"They performed well and represented the school with distinction," said Professor Paul I. Weizer, who coaches the University's moot court team.