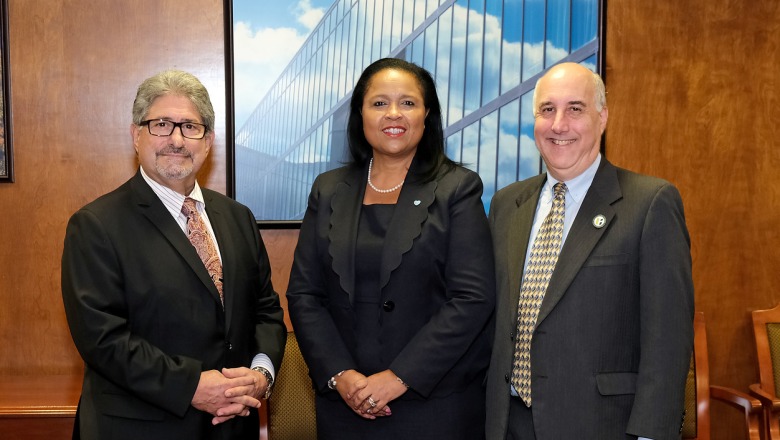 Sheila King-Goodwin, senior vice president and chief community banking officer at Fidelity Bank in Leominster, was recently sworn in as a member of the Fitchburg State University Board of Trustees.
Fitchburg Mayor Stephen L. DiNatale administered the oath of office on Friday, Oct. 7, with University President Richard S. Lapidus also in attendance.
King-Goodwin was appointed to the university board by Gov. Charlie Baker. The board consists of 11 voting members; nine are appointed by the governor for five-year terms, renewable once; one alumni trustee is elected by the Alumni Association for a five-year term; and a student trustee is elected by the student body for one year. No member may serve for more than two consecutive terms.
"I am a fervent believer in the value of education to develop our youth and create more opportunities that will set our students up for future success," King-Goodwin said. "I look forward to supporting Fitchburg State and making a difference in the lives of our students."
King-Goodwin brings 30 years' experience in retail banking. As a senior vice president at Fidelity Bank she develops the strategic direction for community banking, oversees the network of banking centers, client care team and the banks investment services. She is experienced with leading high performance teams, creating cross-functional collaboration, driving business growth and being an active member in the community. 
In addition to her service with Fidelity Bank, King-Goodwin worked for Peoplesbank in Holyoke for 13 years.