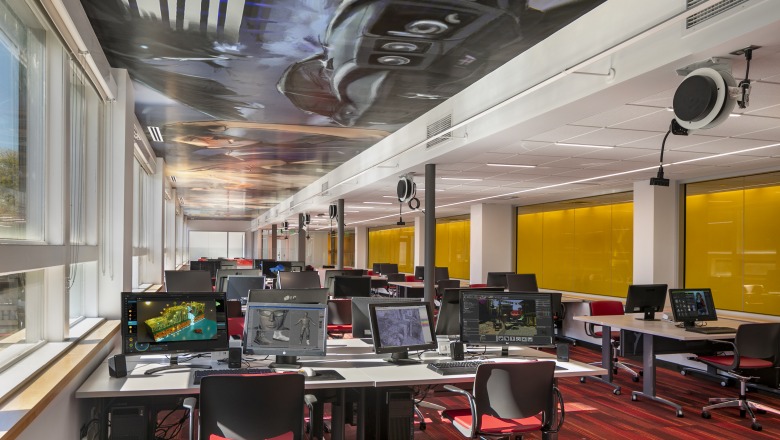 The Fitchburg State University ideaLab on Main Street has been recognized by American School & University magazine for excellence in interior renovation. The collaborative space at 717 Main St. was renovated as part of the University's ongoing transformation of the long-dormant downtown theater block.
The ideaLab includes state of the art studio space where students in Fitchburg State's game design program complete their capstone semesters.
In imagining the future of the space after its purchase by the University in 2016, Fitchburg State worked with Boston-based ICON Architecture. The project began with the game design studio overlooking Main Street. Walls perpendicular to Main Street were taken down to accommodate an open, collaborative space. A student design competition was launched to create the mural that would adorn the game studio ceiling, measuring 120 feet long and 11 feet wide.
Since the ideaLab and game studio's opening in 2018, the site has been host to numerous community and economic development meetings, as well visits by state and federal dignitaries. The first cohort of students to complete their game design capstones in the theater block graduated in May.