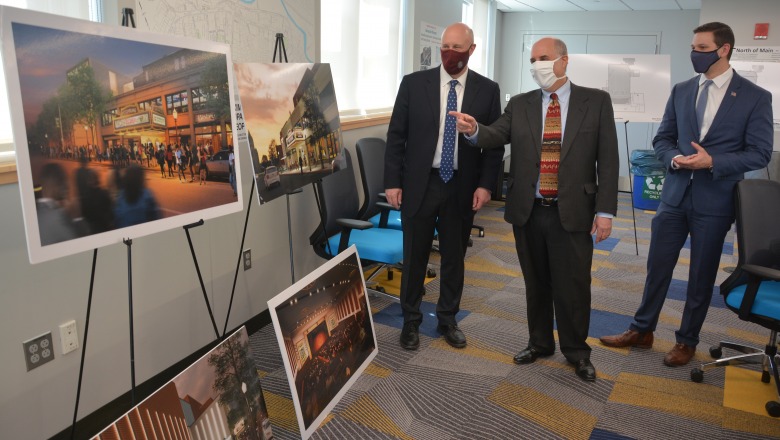 Massachusetts Housing and Economic Development Secretary Mike Kennealy toured downtown Fitchburg this week to get a close-up look at the public and private development that is remaking the city.
Kennealy's tour included a look at Fitchburg State University's Main Street Theater Block, already home to a state of the art game design studio and interdisciplinary ideaLab, and the site of a planned redevelopment of the long-shuttered theater itself.
Fitchburg State President Richard S. Lapidus described the theater project as an anchor in the city's efforts to revitalize the downtown corridor.
"There's a gravitational pull that will support restaurants and other businesses on Main Street," Lapidus said. "We're on our way."
Kennealy's tour also included the newly renovated legislative chamber adjacent to the redeveloped Fitchburg City Hall, the Activate Mill Street project off Boulder Drive, and future restaurants along Main Street. These included Tacos Tequilas on Main Street, owned by Elmer Melendez and set to open in the coming weeks, as well as existing eateries like Bion and El Bohio.
"We've really put all hands on deck to build back up downtown Fitchburg," said Fitchburg Department of Community Development and Planning Executive Director Tom Skwierawski, who led the tour that included Mayor Stephen DiNatale and representatives from Fitchburg State, NewVue Communities, ReImagine North of Main, MassDevelopment, the North Central Massachusetts Chamber of Commerce, and members of the local legislative delegation including State Sen. John Cronin and State Rep. Michael Kushmerek.
Efforts to revitalize downtown Fitchburg have been supported by a number of state and federal programs that are helping connect small business owners with funding and technical support, noted ReImagine North of Main Director Joseph Ferguson. Those efforts were recently reinforced with the announcement of a $100,000 Urban Agenda grant from the Baker-Polito Administration that is designed specifically to support minority-owned businesses.
"We love the partnership," said Mayor DiNatale.
"This is a great group of people and we're grateful for all the work done over this very challenging year," Kennealy said. "We need to support small businesses and we need to support our downtowns. They're the lifeblood of our communities, and we need everyone at the table to get this work done."