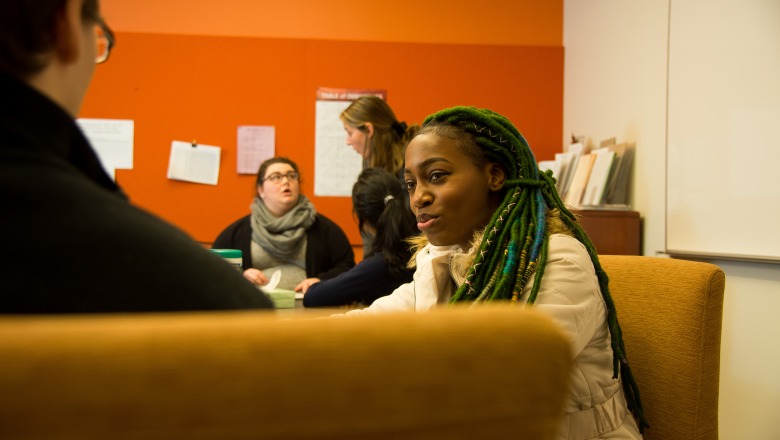 Fitchburg State University's efforts to remake career advising for students has been awarded a grant of more than $250,000 from the Davis Educational Foundation.

The funds will enable the university to build a comprehensive model of career advising and services. Over the next three years, the Career Services and Advising Center will work with faculty to develop core career competencies and map them to curricula in 11 academic departments and the general educational curriculum. The grant will also support the creation of a comprehensive internship and employer relations model.

"Fitchburg State is grateful for the ongoing support of the Davis Educational Foundation, whose previous grants have supported the university's efforts to improve data collection and degree completion," University President Richard S. Lapidus said. "The foundation's latest investment will support career outcomes in connection to degrees and academic credit accumulation. We are strategically focused on student success through career mapping, experiential learning, and advising to expedite students' pathways toward careers. The cumulative impact over these three grants are significant. We have been recognized as a leader in student social mobility, veterans support, women's opportunities, Hispanic and minority student support, and most importantly, cited as one of the 'best value colleges' in 2020. The Davis Educational Foundation is an important part of our story and we look forward to a bright and promising future of collaborations."
President Lapidus also thanked the career services and advancement office staff for their work not only in support of the grant application but for their commitment to serving the comprehensive needs of Fitchburg State's students.

"My staff and I are excited to continue this work thanks to the support of the Davis Educational Foundation," said Director of Career Services and Advising Melisa Alves. "We look forward to working with our campus partners to advance the work Fitchburg State is doing around connecting academics to the world of work. As we move forward with this work, along with our plans to build career communities, an internship program, and career readiness courses, we are confident our students will benefit greatly as we provide career services support that will prepare them for whichever step they decide to take upon graduating from Fitchburg State University."  

"This grant is important for the students we serve, for our Career Services and Advising Center, and for the institution as a whole," said Assistant to the Provost for Student Success Sean C. Goodlett. "We are appreciative for the Davis Educational Foundation's continued support, and for the work of our Career Services and Advising team, who were the inspiration for our application. Their work, in the most challenging of circumstances, is a model for us all."

About the Davis Educational Foundation

The Davis Educational Foundation, established as a public charitable foundation in 1985, supports the undergraduate programs of public and private, regionally accredited, baccalaureate degree granting colleges and universities throughout the six New England states. Elisabeth K. Davis and Stanton W. Davis co-founded the foundation after Mr. Davis's retirement as chairman of Shaw's Supermarkets, Inc. The foundation is an expression of the couple's shared support and value for higher education and has provided more than $115 million in grants to more than 174 institutions.