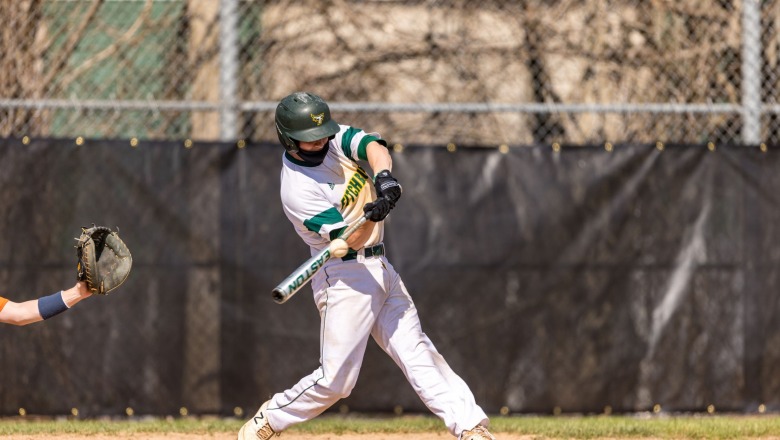 Fitchburg State University baseball sophomore Brad Keefe (Dracut, Mass.) was credited with the selfless act of helping battle a house fire not far from Noyes Park in Sherrill, N.Y., where he is a member of the Sherrill Silversmiths baseball team.
"A couple of my teammates and I were hitting in the batting cages getting in some extra work when a shed and car caught on fire," said Keefe, who is majoring in engineering technology. "We set up some hoses and helped put it out until firefighters showed up. We just thought it was the right thing to do."
The structure fire Monday in a single-car detached garage was fully engulfed in flame and spreading to the vehicle parked next to the garage, according to a statement from Sherrill Fire Chief Andrew Bennett.
"Bystanders who were in the area had attempted to quell the fire while awaiting the arrival of fire personnel," Chief Bennett said. "Keefe and two members of the Silversmith team helped by retrieving and connecting additional garden hoses to allow Chief of Police Robert Drake to make additional efforts on the fire."
According to the Sherrill City Manager Brandon Lovett, it was "a true sign of leadership and selflessness."
"The selfless efforts of these individuals to actively take action and attempt to assist the residents of Sherrill in a time of crisis is greatly appreciated," Chief Bennett said. "The fire was brought under control quickly after the arrival of the Sherrill-Kenwood Volunteer Fire Department."
"I took the names of the three players because I believe they deserve recognition for their actions," said Sherrill Police Chief Robert Blake, acknowledging Keefe and teammates Simeon Downing and Josh Bein. "Their willingness to help and courageous actions are a true inspiration."
"We always expect our players to be great community citizens when they head off to various collegiate summer baseball leagues, but it sounds like Brad and his teammates took that to another level," said Fitchburg State Baseball Coach Shawn Manfredo. "We're very proud of how he represented Fitchburg State University and our baseball program." 
Keefe, playing for the Sherrill Silversmiths of the New York Collegiate Baseball League (NYCBL) this summer, made his debut Monday Night. He allowed three hits and an earned run in two innings of relief. It was opening day in the NYCBL.