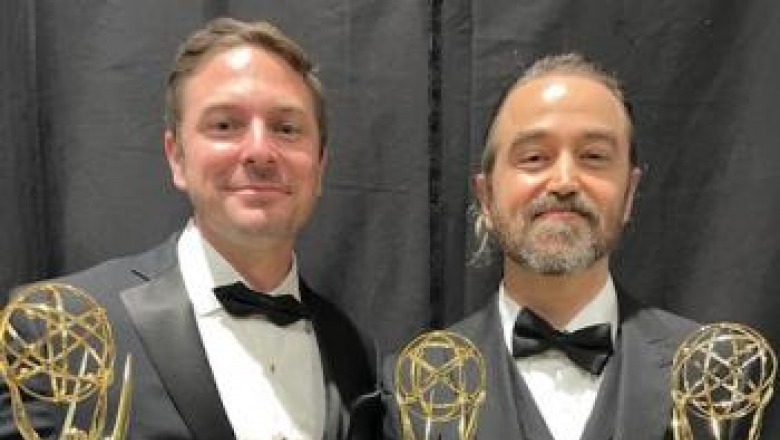 Gregg Swiatlowski, a 2006 graduate of Fitchburg State University, won the Emmy Award for outstanding sound editing for a limited or anthology series for the Netflix phenomenon The Queen's Gambit at the recent Creative Arts Emmy Awards.
It was the first win and second nomination for Swiatlowski. "I couldn't attend that first Emmys because it happened to fall on the same night as my wedding," he said. "I chose to get married."
Swiatlowski was able to attend the Creative Arts Emmys on Sept. 11 in Los Angeles.
The Queen's Gambit, the adaptation of the Walter Tevis novel about a groundbreaking chess phenomenon played by Emmy nominee Anya Taylor-Joy, was a hit for Netflix and cast a wide shadow over pop culture during the pandemic. "It landed at a really good time," Swiatlowski said. "It was a good, bingeable show."
It was also a great professional experience for Swiatlowski, who has worked in feature films and TV shows throughout his career since graduating from Fitchburg State. He finished his undergraduate studies in 2006 with a full-time internship on an independent feature film. "It was a really great learning experience," he said, adding that he got to spend time at George Lucas's Skywalker Ranch for the final stages of post-production on the film.
Working behind the scenes has always appealed to Swiatlowski, who made movies with friends while growing up in Palmer. "There was something about Fitchburg State that really connected with me," he said. "It was a smaller department, but it had good professors, and students got to work with equipment right away. It was a no-brainer for me. It turned out to be exactly what I thought it would be, with a lot of hands-on experience."
He recalled Professor Gunther Hoos, the late faculty member who was a major figure in the growth of the university's Communications Media Department, asking first-year students what they wanted to do in film. "We can't all be directors," said Swiatlowski, who cited the importance of mentors in the department including Professors Bob Harris and Charlie Roberts, and his advisor Jeffrey Warmouth. "I decided to take the road less traveled."
That turned out to be a good road for Swiatlowski, who has accrued a resume of successful projects. For The Queen's Gambit, Swiatlowski was part of the team that created and manipulated every sound heard on the program, except the music. "We take the same sort of care and detail you would use in (creating sound for) a swordfight, just with chess matches," he said. "It feels great that people noticed the subtleties and recognized the work. The story was firing on all cylinders and it's nice the whole piece gets recognized."
He was optimistic as his category approached during the show, as Queen's Gambit had already garnered numerous technical accolades. "We were toward the end of the program, and we were hoping we wouldn't ruin the show's run," he said. And he needn't have worried. He shared the award with a number of additional crew members from Goldcrest Post in New York and 24/7 SND in Los Angeles.
Swiatlowski, who plans to keep his Emmy trophy in a studio he is building at the home he shares with his wife in the Catskills in upstate New York, is already hard at work on his next project, working on the fifth season of the Showtime series Billions. The sixth season is approaching, and he has another show he will be working on into the middle of next year.
His advice to today's students is to follow their passion. "Find something in the industry that you like, and stick with it," he said. "I found it rewarding to find my niche, and stick with it."