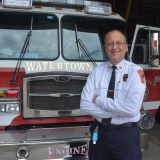 The fire service turned out to be a very rewarding career for me.
Watertown Fire Chief Robert "Biff" Quinn '81 has been a firefighter for more than 30 years, but has seen nothing like the COVID-19 pandemic. "It's been most of my day for the last few months," he said. "From the get-go, we had to establish a lot of procedures internally for the firefighters to keep them safe."
Those measures include multiple temperature checks per shift and assessments to make sure none of his firefighters has been exposed. As of early May, two members of the department had tested positive, so they and the firefighters with whom they were on duty had to be quarantined for two weeks.
Chief Quinn is also the emergency management director for the town of Watertown, with a population of 36,000. In that role he's been meeting daily with other municipal departments on their response to the pandemic, including the public school's efforts to feed students and working to keep the populations of senior housing complexes and group homes from being exposed. In the first two months of the pandemic, more than 200 cases and 11 deaths had been confirmed in the town.
"It's been a tough thing to deal with," he said. "For the most part, people have been very cooperative. I'm lucky that everybody's been on board and working hard to keep themselves from getting exposed."
Chief Quinn, who was appointed to his current role in 2018, studied medical technology at Fitchburg State. He was working at a blood bank in Cambridge when his brother-in-law encouraged him to take the firefighter's exam. "I was ready for a change and said, 'Let me give this a try. I can always go back to lab work,'" he recalled. "I got hired in Watertown and here I am, 33 years later. It's turned out to be a very rewarding career for me."
This story was first published in the Summer 2020 edition of Contact, the university's alumni magazine.