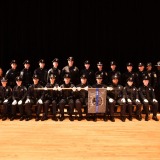 At Fitchburg State, we were taught that communication is everything in this job. In the real world, that has held true. The ability to effectively communicate with people is the most important tool to have and I feel Fitchburg State prepared me for that.
By Jordan Costa '21
Fitchburg State University's groundbreaking police program was conceived with great ambitions – to train a new generation of police officers who would be equipped with the training and education to thrive in a constantly evolving field. The program graduated its third cohort of officers in September 2020, and graduates are working now in police departments across Massachusetts as well as New Hampshire.
The town of Hopkinton's police department has three graduates on the payroll. Officer Jessica Ferreira '19 and Officer Tyler Brabham '19 graduated with the 2nd recruit officer course, while Officer Cody Normandin '20 was a member of the 3rd recruit officer course that completed their academy training in fall 2020.
Hopkinton Police Chief Joseph Bennett is a believer in the importance of training and said the three Fitchburg State police program graduates on his department have been good additions.
"They're definitely a good fit with the department," Chief Bennett said.
Programs like Fitchburg State's represent a good value for police departments as the graduates are ready to report for duty as soon as they are hired, he said. Typically, departments hiring new officers must wait for them to complete the academy. The Fitchburg State graduates, on the other hand, have completed their academy training before getting hired, so their orientation within the municipal department can focus on learning the community and the rest of the department, Chief Bennett said.
"It's a great career," Bennett said. "You never know what each day is going to bring."
In Fitchburg State's program, graduates complete – in five years – bachelor's and master's degrees in criminal justice plus full certification to serve on municipal police departments. The summer between their bachelor's degree and the start of their master's program includes a rigorous academy featuring physical training as well as defensive and tactical skills.
Officer Ferreira found out about the Fitchburg State police program in her first week on campus. "I honestly signed up for it not knowing entirely about what it was, but knowing that policing was going to be my career path," she said. "I grew up in a troubled home and was in and out of foster care. I ended up spending a lot of time with the police and they always helped me to feel safe. I have wanted to become a police officer ever since. The program is a very unique opportunity and it turned out to be exactly what I needed to reach my career goals."
Officer Brabham said law enforcement had been a calling his entire life. "I grew up with a father who is currently in law enforcement and was surrounded by his friends who were police officers," he said. "I always loved hearing their stories, especially about how they have helped people along the way. For me, my career choice allows me to give back to the community, in essence, giving me a sense of purpose." 
Officer Normandin, who learned about Fitchburg State's program online, was drawn to a meaningful career. "I wanted to become a police officer to help people," he said. "The ever-changing aspect of the job is also attractive to me because it keeps work interesting." 
Preparing students for the real world and careers that come after graduation is something that all programs at Fitchburg State strive to do. The four plus one program specifically takes the time to shape these student officers so when they enter the workforce they are beyond ready to jump into any situations that may occur.
"One thing that sets Fitchburg State apart from other programs is it prepares you for the academy in your undergraduate years," Officer Brabham said. "In order to stay in the program, you must hold yourself to higher standards than most students. This includes staying out of trouble, grooming standards, meetings and GPA requirements. This makes you disciplined at a very young age, which is essential to policing."
As prepared as they were by their training, the officers said they continue to learn and adapt to on-the-job situations every shift they work. 
"At Fitchburg State, we were taught that communication is everything in this job," Officer Normandin said. "In the real world, that has held true. Every call we go on we are dealing with people. The ability to effectively communicate with people is the most important tool to have and I feel Fitchburg State prepared me for that."
Officer Brabham said the time management skills he learned during his college years has helped him in his professional role. "For example, getting reports done in a timely fashion is extremely important," he said. "Call volume always varies, stressing the importance of not procrastinating and getting work done."
The young officers said they were grateful they had access to important role models during their training at Fitchburg State. 
"There were multiple people who made a significant impact on me in the program," said Officer Ferreira, citing Academy Director Lisa Lane as an important role model throughout her time in the program. "Director Lane was a great mentor to me. When the academy began her role shifted to more of an authoritative role, and this provided great insight into what a woman's leadership role in policing can look like."
Officer Brabham said students in the program now should plan to keep learning long after they graduate. "In the first five or so years as a police officer, you are learning all the time," he said. "As a new police officer, I would suggest being a sponge. In policing, it is very important to listen to senior officers and take any chance you have to learn. Also, don't be afraid to ask questions."
"My favorite part of being a police officer in Hopkinton is interacting with the community," Officer Normandin said. "Hopkinton is a small town with a close-knit community that has welcomed me with open arms."
"My favorite part of being a police officer in Hopkinton are my coworkers," Officer Ferreira said. "I feel like I can go to any officer or higher rank in my department and ask them a question and they will be able to help me. The teamwork in responding to calls has been a great way for me to learn additional strategies and skills on the job. My coworkers and senior officers have been a great resource."
To learn more about Fitchburg State's police program and criminal justice courses, please visit http://www.fitchburgstate.edu/criminaljustice.