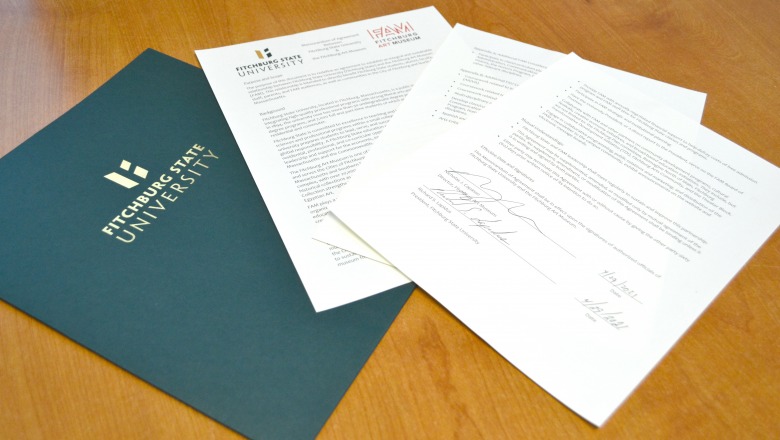 A newly reauthorized pact between Fitchburg State University and the Fitchburg Art Museum (FAM) will deepen the collaboration between two of the city's most important and enduring institutions, enriching opportunities for programming and professional development for both organizations that are designed to enhance the quality of life for all city residents.
The agreement, signed Thursday, April 29 by Fitchburg State President Richard S. Lapidus and FAM Director Nicholas Capasso, calls for both institutions "to engage in activities that are mutually beneficial, as well as activities that help support the economy, livability, and quality of life in the city of Fitchburg and North Central Massachusetts."
"Fitchburg State University and the Fitchburg Art Museum have enjoyed a long and significant history of mutually beneficial collaboration, and this new agreement further formalizes opportunities for us to work together on projects that will have meaningful impacts on students, faculty, and the broader community," President Lapidus said. "I am grateful for the partnership and excited about the potential for growth the updated agreement will help facilitate."
"Our strengthened agreement will help to more firmly embed the Fitchburg Art Museum within the Fitchburg State community," Capasso said. "We want to make FAM part of the overall campus experience for students, faculty, and staff alike. This enhanced partnership also recommits both institutions to community and economic development work for our city and region. The possibilities are endless! I extend my thanks to President Lapidus and the university administrators and faculty who have worked to support our collaboration."
Among other facets, the pact will make FAM the de facto art museum for Fitchburg State, with free admission for all university students, faculty and staff, along with FAM's participation in class and curriculum planning for a variety of university disciplines from art, art history and communications media to business administration, education, history, and the humanities.
FAM will also provide university students with additional high-quality internship opportunities in fields including management, curation, conservation, and exhibition planning.
Fitchburg State will also work with FAM on developing new undergraduate and graduate programs using the museum as the applied learning context, such as degrees in arts management or museum studies, or a graduate certificate in digital curation.