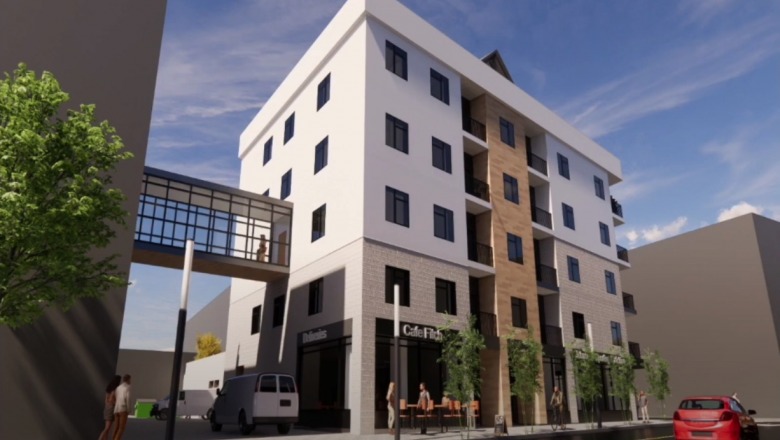 Students in Fitchburg State University's Engineering Technology program recently competed in the U.S. Department of Energy's Solar Decathlon Design Challenge, for which they reimagined a vacant parcel in downtown Fitchburg as a hub of renewable energy.
The students, led by Professor Keith Chenot, collaborated with Unitil Corp. Senior Energy Efficiency Program Coordinator Brad Hunter. Unitil, with a long history of support of university initiatives, recently entered into a multi-year commitment to sponsoring and participating in student projects and providing financial support.
"The competition provided a great opportunity for seniors in the Engineering Technology Department to apply their knowledge as a team toward solving a real-world problem here in Fitchburg," Professor Chenot said.
For the challenge, the students reimagined the site of the former Johnsonia Building, a hotel-turned-apartment complex that was demolished after a fire in 2011.
In designing a new structure for the location, the students considered a mixed-use, multifamily development that would serve Fitchburg's ethnically diverse population with retail and commercial space that also provided affordable housing. The design accomplished this while adhering to the net zero energy footprint (wherein energy used by the building is offset by what is produced on-site) through maximizing daylight, capturing solar energy, and geothermal heating and cooling systems. 
The team included students with concentrations in architecture, energy management, electronics and construction management. Its members collaborated with the city to find a project site, and the Johnsonia property was a prime location and fit the mixed-use multifamily type, one of the competition's entry categories.
Emily Howard, who graduated in May, said the project was eye-opening. "Professor Chenot really wanted to show us what projects would look like for us in the real world," said Howard, who led the design team. "He tried to emphasize teamwork and assigned us roles based on our interests and strengths to simulate the collaboration necessary for a construction project in the real world."
Howard said the project was also a valuable exercise in leading her teammates in other aspects of the design. "The selection of the site made it even more interesting because we all have been driving past that empty lot for years," she said. "What I loved most about this project was the focus on energy efficiency, because that is where the industry is headed."
Most of the team's work was coordinated online this year because of the pandemic, which created its own challenges for students to overcome. "We all would have loved to work together in person but I think we all did our very best with the circumstances, and made the best out of the situation," Howard added.
That included benefiting from Hunter's presence online. "Brad Hunter from Unitil was an amazing resource for the class," said Howard, who started a project engineer position this summer at A/Z Corporation in Marlborough. "He came to almost every class and offered his professional opinion whenever he could. Brad had great advice whether it was about the orientation of solar panels or the incentives that companies like Unitil offer to energy efficient buildings. He was such a great resource with such a vast amount of information."
Hunter, whose primary responsibilities at Unitil include working with large customers on energy incentive and rebate programs, said he enjoyed participating in the students' discussions. "I sat in their shoes many years ago in engineering school, so it was interesting to see their thought processes and where they're coming from," he said. "It was great to see that energy and that optimism."
Hunter said the students also got to have valuable experience building their presentation skills. "I thought the project itself, and the way it was formatted, replicated real-world scenarios," he said. "There was a point where the students had thought to go down a different path with their design, and they realized if they shifted gears and changed this component at that late stage, it affected all these other things they had already done. They had to think about whether to make that change or not, and it's amazing how much that resonated with how things work on real projects."
Professor Chenot was grateful for Hunter and Unitil's support. "Brad's background in engineering, renewable energy, and power distribution contributed greatly to the students' understanding of the application of engineering principles to real-world situations," he said.
The university hopes to participate in a Solar Decathlon project again next year. The students' project can be viewed on the Undergraduate Conference for Research and Creative Practice website at fitchburgstate.edu/ug-conference.