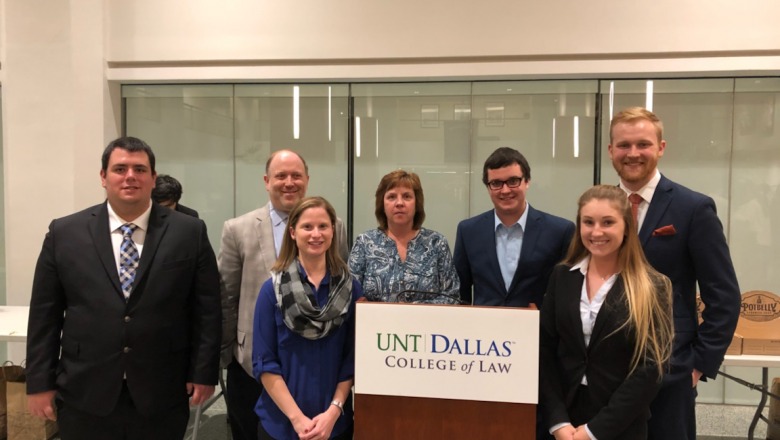 Fitchburg State University students Riley Grinkis and Aidan Horgan finished tied for fifth place in the country in the brief writing portion of the American Moot Court Association's recent national tournament in Texas.
The competition pits students on opposing sides of a legal issue as in an appellate court proceeding, testing their facility with applying interpretations of the law before a panel of guest judges. This year's hypothetical case involves whether the ability to map a defendant's brain to determine if he was at a crime scene would violate his constitutional rights.
The national competition was held in January at the University of North Texas at Dallas College of Law. Students Matthew Murphy '20 and Anthony Ferrari '19 also represented Fitchburg State in the competition.
Grinkis, a junior from Gardner studying criminal justice with a pre-law concentration, said the journey to the national championship began with the announcement of the competition's case in May. She spent the summer review 19 appeals court cases from which to draw arguments and reviewed them in class starting in September. With teammate Horgan, a senior from Princeton majoring in interdisciplinary studies with a pre-law concentration, the reviews continued out of class.
"We argued the cases in front of the coaches every Monday and Thursday night, and met additionally on our own," Grinkis said. "Competing against our counterparts in the national tournament was a very valuable experience. It was wonderful to hear everyone's arguments, and to recognize that although we go to a small state school, we can compete with bigger private schools and hold our own."
Horgan, who said moot court has been the most challenging but fulfilling course of his academic career, agreed. It was daunting at first to face competitors from larger, better known institutions, he said. "Then you remember all the hard work and hours you put in, and you remember the coaches have your back," Horgan said. "Placing fifth in the country in the brief writing competition meant so much to me. I proved to myself that I had what it took to compete with any undergraduate in the country in the highest level of legal debate. It proved that as Fitchburg State students, we can go toe to toe with any other school's best."
Professor Paul I. Weizer, who coaches Fitchburg State's moot court teams, agreed.
"The competition just gets tougher every year, yet our kids continue to perform at a high level," Weizer said. "This season there were more than 425 teams who competed in intercollegiate moot court.  Of those, only 80 – or the top 19 percent – earned earned the right to advance to the national tournament. Fitchburg State was by far the smallest public school to make the championship tournament."
Grinkis said she gained a lot from the experience. "By taking part in moot court, I have gained valuable experience in public speaking, argumentation and debate, as well as knowledge of case precedents and how to apply it to a new case," she said. "I also feel better prepared now to compete again at this year's regional tournament in November. However, these skills go beyond moot court and will help me in law school and in my career."
"Moot court teaches you how to form logical, legally sound, arguments, how to speak, write, and think on your feet," said Horgan, who praised the contributions of his coaches and teammates. "You gain confidence in your ability and skill, and that can open doors you never saw coming. You also become part of a community of people that are dedicated to the same goals you are, and over the semester you inevitably gain some great friends."
The Fitchburg State delegation included assistant coaches (and Fitchburg State alumni) Alyne Butland and Christina Brigham.