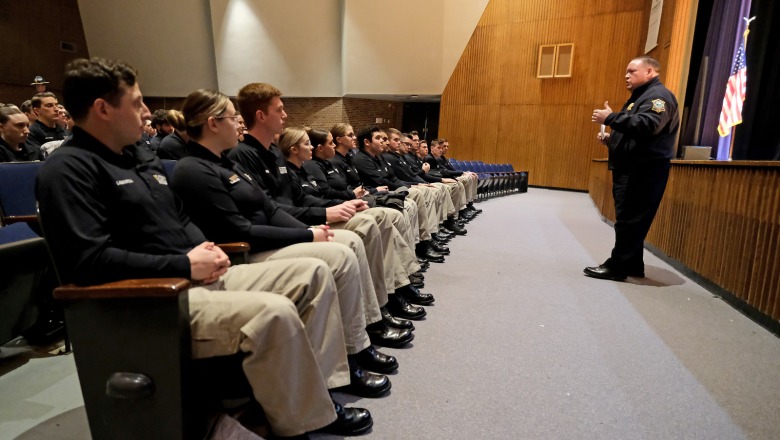 Fitchburg Police Chief Ernest J. Martineau addressed students in Fitchburg State University's police program on Tuesday afternoon, saluting their commitment to joining a vital profession. And he offered them a chance to make some money along the way.
Chief Martineau invited the students to apply for his department's new civilian traffic control specialist positions, which will pay $53 an hour to staff road details. 
Demand for such positions has exceeded the department's capacity to fill them, the chief said, explaining many details that went unfilled last year. Opening the opportunity for civilians - including police students - should fill that gap.
"I think a police officer or aspiring peace officer brings a lot to the table," Chief Martineau told the students. "What you're going to learn as future police officers is endless. You're going to learn about crisis intervention, and you're going to learn how to de-escalate a situation. Those are skills you can't put a dollar value on. You're going to be learning these skills before you put on the uniform."
Students in Fitchburg State's police program complete bachelor's and master's degrees in criminal justice and full certification to serve municipal police departments in Massachusetts and other states within five years. It is believed to be the first program of its kind in the nation, the majority of whose graduates have job offers in hand before graduation.
Chief Martineau recalled the origins of the program and the promise of a new approach to police training. "This vision of the future of policing is what's right in front of me right now: the best and the brightest," Chief Martineau said. "I think you're entering into the finest career you can experience."
"I am thrilled that the police students are being given this opportunity to work for Chief Martineau out in the Fitchburg community," said Fitchburg State Police Academy Director Lisa Lane McCarty. "One of the goals of our program is to provide more in the four years we have these police students; more education, more training, more job related skill development, more real life experience. These Civilian Traffic Control positions will give them a glimpse into the policing profession while also allowing them to interact with and assist members of their community." 
State Rep. Michael Kushmerek '08, '13 also attended the police program meeting to speak with students about his own path and to commend them for their interest in the profession, as well as lauding the Fitchburg Police Department for its ongoing support of the program and its graduates. 
"You are truly the future of law enforcement, and the envy of every other city and town in the Commonwealth," Kushmerek said.
Fitchburg Police Officer Ryan Kreidler, a recent Fitchburg State graduate and a member of the university police program's training staff, encouraged the students to take advantage of the opportunity presented by the chief.
"You're going to be in the public eye, and you're going to learn how to interact with people, with contractors and emergency medical technicians," Officer Kreidler said.