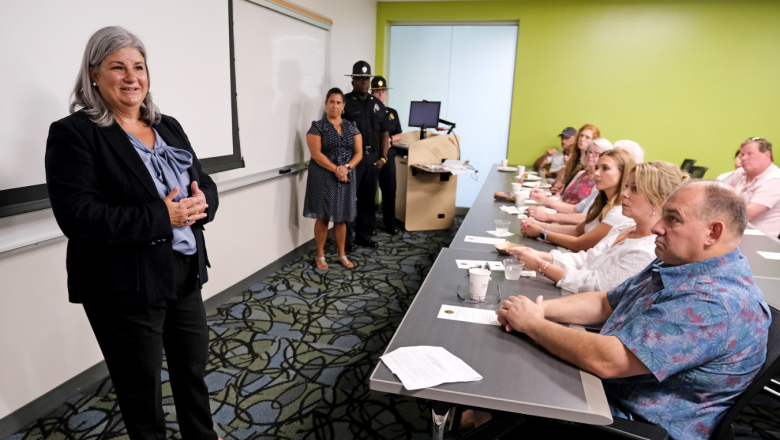 (See additional photos from Family Orientation on the university blog.)
Eleven recent graduates of Fitchburg State University comprise its 6th Recruit Officer Course, and are spending their summer completing a 17-week academy that will conclude with their certification to report for duty at municipal police departments in Massachusetts and neighboring states.
On Tuesday, family members and other honored guests came to see them in action, and to learn more about the groundbreaking program that university and state leaders hope marks a new direction for the police profession.
Paul Charpentier, a retired detective patrolman who served on the Leominster Police Department for 32 years, watched with pride as his grandson Martin Zimei was put through the paces for a training exercise that was offered as part of the family program on Tuesday. 
"It's something he's wanted to do since he was this high," Charpentier said, putting his hand near his knee. "I'm honored by it. To see it come to fruition is outstanding to me."
Charpentier said he was a believer in Fitchburg State's police program, which was developed in collaboration with the state Municipal Police Training Committee (MPTC). The 11 members of the 6th ROC completed their bachelor's degrees in May, and entered the academy just days later. Following completion of the academy in September, they will receive their police certification and may continue pursuing their master's degrees in criminal justice.
"We are particularly proud of this program," Fitchburg State President Richard S. Lapidus told the crowd of parents, grandparents, siblings and friends gathered for the family orientation program. "What makes this program unique is its combination of policing theory and practice, embedded in the curriculum. The world of policing is changing, and we believe we're providing a new way of thinking about the profession."
Massachusetts Assistant Undersecretary for Law Enforcement and Criminal Justice Angela F. Davis also greeted families of the 6th ROC.
"It's been an honor to support your recruits," she said. "We're so fortunate to have an articulation agreement with an institution of higher education of this caliber. You can take comfort knowing this program and the team that's been assembled is pretty incredible. To all of you, you should be very, very proud of your recruits, because we are."
MPTC Executive Director Robert Ferullo, the retired chief of police for the city of Woburn, described his own commitment to Fitchburg State's program, which has drawn national and international attention. "This program turns out future leaders," he said. "The new generation of educated police officers will build a new police profession."
Ferullo also said the program serves as an investment in the success of municipal police departments, who benefit from the ability to hire certified police officers without having to pay them for the months it takes to complete the traditional academy. "Every hire saves cities and towns $60,000," he said.
Guests also heard from Academy Director Lisa Lane McCarty and members of her academy staff, which includes full-time police officers from other communities as instructors. Lane shared the personal connections she has made with all of the recruits and described her belief in their future success. While the academy curriculum and physical requirements are demanding, Lane told the families to know the drill staff are rooting for all of the officers to thrive.
State Rep. Michael Kushmerek and Beth Walsh from State Sen. John Cronin's office were also among the guests at this week's family orientation and offered their support for the program.
Steve and Maureen Morris of Ludlow came to the event to learn more about the program their son, Andrew Morris, is experiencing.
"We felt great about the program since the very beginning," Steve Morris said. "It was a great way for him to get his four-year degree and continue on."
Maureen Morris agreed. "This is what he's always wanted to do," she said.
Ellen Barber of Sandwich, whose son Joshua is a member of the 6th ROC, said she appreciated the atmosphere of support she observed for the future officers. "It's outstanding, the fabulous opportunity these young people have to learn in an environment with professionals by their side."
All of the members of the 6th ROC have either been hired by departments or are in the process of being hired.