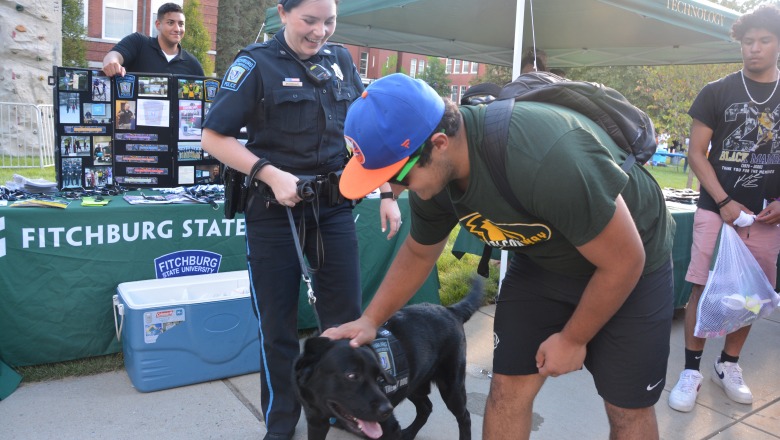 The newest member of the Fitchburg State University Police Department has a lot in common with his fellow officers - he's friendly, hard-working, approachable, and knows how to follow orders. But this officer runs on four legs.
Odin, an English Labrador "recruited" by Officer Erin Morreale, formally joins the department as a comfort dog this fall.
Morreale and her husband, who is a police officer in another department, adopted Odin last year. "I've had dogs my whole life," she said. "He's got a brother at home."
Morreale was interested in the possibilities of a comfort dog for the department, whose duties would not run the traditional public safety gamut. Odin isn't trained to sniff for bombs or contraband, or to pursue fleeing suspects. His sole function is to provide comfort to whoever he encounters on the job.
"I've benefited from having him at home," Considine said. "I've seen the benefit of comfort K9s at other schools. He'll be partly a therapy dog and then he's going to complete crisis response training."
For crisis response, she explained, Odin would be summoned to help calm participants or witnesses who had been through a traumatic experience 
University Police Chief Michael J. Cloutier embraced Morreale's proposal when she approached him about Odin joining the ranks as a comfort dog. The proposal was also supported by university leadership.
"We are a service-oriented department," Chief Cloutier said. "This is another service we can offer."
Odin is slated to complete his course of training and certifications later this semester.  He is already a familiar face at the University Police Station on Clinton Street, and has been out and about campus so he and the campus community can become familiar with one another.