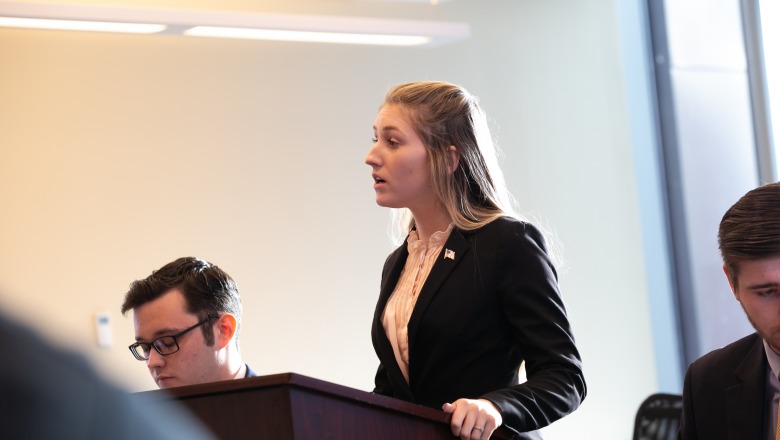 The American Moot Court Association, whose tournament brings top students from more than 200 colleges and universities across the nation, has ranked Fitchburg State University's program 14th in the country.

Professor Paul Weizer, a member of the Economics, History and Political Science Department, founded Fitchburg State's moot court program in 2000 with four students, and the team advanced to the final round of the national competition in its first year. "We were hooked after that," he said.

The competition pits teams of students against one another on opposing sides of a legal case, as in an appellate court proceeding. Students must argue both sides of the case in the course of the competition, making timed arguments as well as fielding questions from a panel of legal experts, as well as submitting written briefs.

The American Moot Court Association's Top Program Scores recognize schools based on their performance in both the AMCA National Tournament Oral Advocacy competition and the AMCA National Tournament Written Brief competition. The scores are weighted at 67 percent for the oral advocacy competition and 33 percent for the written brief competition.

Weizer estimates 200 Fitchburg State students have competed during its years in the national program. Many graduates of the program return to campus each year for the regional tournament on the Fitchburg State campus. Their ranks include police officers, lawyers and court clerks, though Weizer said the skills developed through moot court are applicable far beyond the legal profession.

"They learn public speaking, to stand up and answer questions under duress, to think on their feet, and they develop strong writing skills," Weizer said. "The ability to speak well and write well are transferable to any career they go on to."

Weizer said he remains especially proud that Fitchburg State students have excelled in the national tournament every year against larger, more expensive institutions. The national rankings echo that point.

"I tell my students, they're competing against students who are paying 10 times as much as they are," Weizer said. "It just shows we have really good students. I can take my best students and they can compete with anybody's best, and they have, consistently. We have a lot of very talented students, and it's great we can give them the opportunity to compete on a national stage."

Fitchburg State will host the regional tournament this November, which will be conducted virtually for the first time.