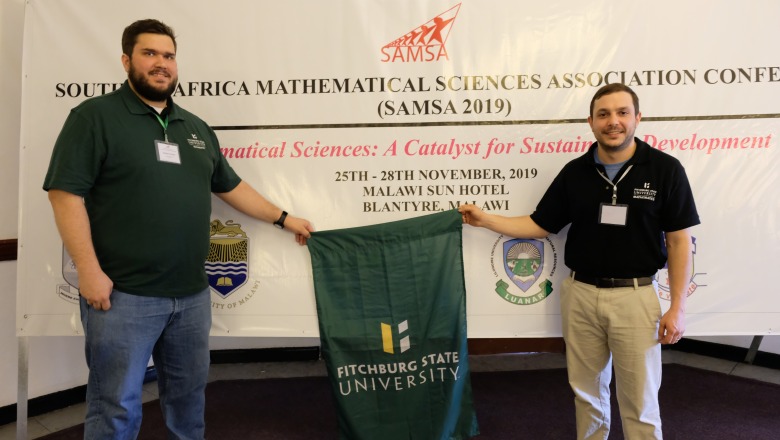 Fitchburg State student Matthew Foster '20 of Groton did not expect to spend part of the last semester in Malawi in Southeast Africa, but the opportunity to take part in an academic research conference was too good to pass up. The mathematics major was invited by Professor Benjamin Levy, himself a longtime attendee of the Southern Africa Mathematical Sciences Association (SAMSA).
The SAMSA conference creates a platform for the dissemination of scientific ideas and results, networking among mathematical scientists, and opportunities for upcoming researchers to engage with experts in the field. Among other outcomes, the program creates mathematical models for use by government officials and policy-makers on topics like the spread of diseases including HIV, Ebola and Malaria in human and animal populations.
"I was impressed by Matt's work ethic and the questions he asked in class," said Levy, whose own research interests include mathematical modeling of biological phenomena (such as tracking the spread of disease in animals). "For his capstone project he's working on an Ebola model, so both of our classes during the semester were mathematical-modeling based. As a result, he was an obvious fit for the trip."
Levy reached out to several departments within the university to help defray the cost of Foster's journey.
Foster, whose only previous international trip was a family vacation to Mexico, said it was powerful to be immersed in another culture where he was instantly recognizable as an outsider. "It was eye-opening," he said. "Going to a different country is an amazing experience, one you can't imagine until you've experienced it. It's not something everyone's going to get to do in their life, so I feel very lucky."
He was also apprehensive about being out of his element in the academic arena, but soon learned he was ready to contribute as he manipulated mathematical models.
"He rose to the occasion," Levy said. "He fit right in."
For Levy, the trip marked his own continuing academic evolution. "When I started attending this conference, I was a graduate student," Levy said. "Six years later, I'm at the point of leading these groups."
Levy hopes to continue bringing students to the conference in future years so they can enjoy the meaningful academic and cultural experience. Foster said he would recommend others try to take part.
"It's an experience I wish everyone could get," he said.