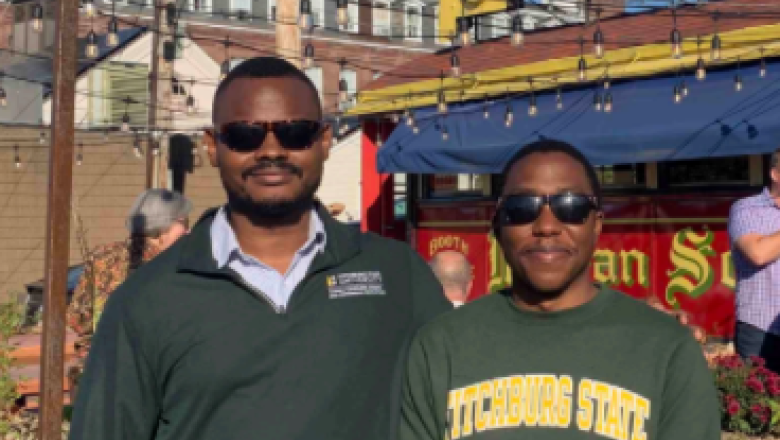 Oladotun Opasina and Muchafara Punungwe are committed to forging stronger ties between Fitchburg State University and the city in which it resides.
The two international students hope their efforts will help support the city's long-term revitalization efforts while simultaneously improving the quality of life for university students looking to engage in learning and recreational opportunities off-campus.
The pair founded SeeksCo in 2020 to help connect area businesses with the campus community. "It seems like students live and breathe the campus and in some areas of the city, we believe that there are more opportunities for students to connect deeply and better with Fitchburg area," said Opasina, a native of Nigeria who completed a Master of Science degree in computer science at Fitchburg State in 2021. "We are building SeeksCo, a website to encourage students to support local businesses and attractions by shopping and exploring locally."
Punungwe said he was hopeful that SeeksCo will enable explorers and adventurers within the city, including international students who have already demonstrated an interest in exploring and their American peers who are looking for new experiences. That exploration can start by simply exploring the breadth of restaurants on Main Street, a short distance from campus. "We wanted to use this project to show students there's more to see," said Punungwe, a native of Zimbabwe pursuing an undergraduate degree in business at Fitchburg State. 
Beyond SeeksCo, which has already made an impact on the campus and with local companies, Opasina and Punungwe have engaged city officials in their effort. Their ongoing projects include an inventory of vacant properties on Main Street with assessments of what would be needed to get them ready for occupancy.
Opasina and Punungwe have developed a lot of affection for Fitchburg during their time in the city and feel invested in its ongoing success.
"A lot of students aspire to go live in bigger cities," Punungwe said. "But in my experience, if you want to make big changes, you have to start small. Start making an impact now."