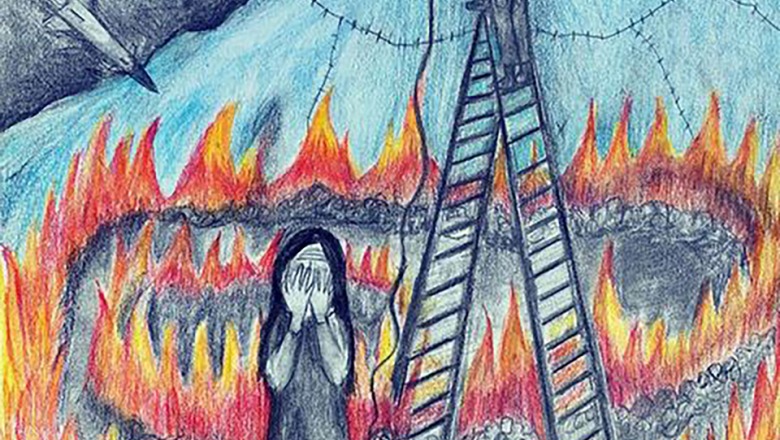 Powerful drawings inspired by the war in Ukraine are on display this fall at Fitchburg State University's Hammond Hall Art Gallery in artist Hanna Melnyczuk's exhibit "Don't Close Your Eyes."
Melnyczuk began creating these drawings upon Russia's invasion of Ukraine in an attempt to show her personal attempts to process what is happening to the country her parents left in 1944. Influenced by her work on children's books, the images in this collection show her struggle to understand the unfathomable acts of war that fill her mind. 
"Don't Close Your Eyes: Reactions to the War in Ukraine" will be on display in the Hammond Hall Art Gallery from Tuesday, Sept. 5 through Sunday, Oct. 15. There will be a reception with the artist at 3:30 p.m. Thursday, Sept. 21 at the gallery, located in Hammond Hall at 160 Pearl St. Admission is free and open to the public.
Learn more about Fitchburg State's cultural offerings at fitchburgstate.edu/centerstage.
About The Exhibit
When the Ukrainian people plead, "Close the sky!" her work obliges by sewing it shut with needle and thread, as imagination succeeds where reality fails. Collapsing buildings and shattered bricks reveal the bodies beneath the rubble. Here, children hope and families grieve in a landscape which at times remains preternaturally serene. These drawings bring to the fore the death and horror of war through the filter of time and distance, expressing the emotions of someone viewing events from afar, depicting what can only be seen in the mind's eye. 
About the Artist
Hanna Melnyczuk received an MFA from Mass College of Art. Her work has appeared at Art Space in Maynard, University of Massachusetts Lowell Mahoney Gallery, The Gallery at the Piano Factory, the Danforth Museum, Tufts Gallery, Brush Gallery, Fountain Street Gallery, New Art Center, and more. She has curated two art exhibits: Agni Magazine of Emerging Artists (published by Agni Press as Agni 37: Standing on the Verge: Emerging Poets & Artists alongside poetry curated by Joseph Lease and Thomas Sayers Ellis); the other, a traveling exhibit of Ukrainian artists' works, Don't Close Your Eyes, responding to the current war. Hanna teaches drawing and 2D design at University of Massachusetts Lowell.