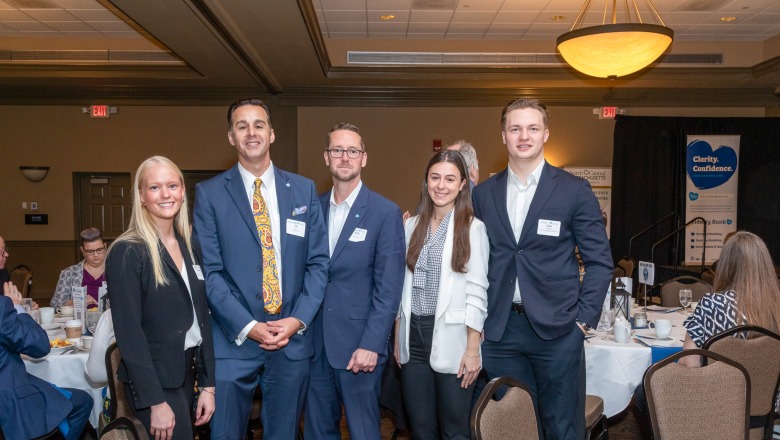 Business students at Fitchburg State University recently assisted the North Central Massachusetts Chamber of Commerce with an analysis of their annual member survey, giving the students a chance to apply their classroom experience to a "real world" data set.
The students worked with Professor Michael Greenwood - their faculty advisor and chair of the Business Administration Department - on the project, meeting with leadership from the Chamber of Commerce and survey sponsor Fidelity Bank.
Greenwood explained the student team simulated the perspective of a chamber member applying the annual economic survey data to their own simulated business situation.
"This level of community engagement for our business students is truly world changing for everyone involved," said Greenwood, who thanked Chamber President and CEO Roy Nascimento and Fidelity Bank Senior Vice President Derek Beahn for the access that was granted to his students.
Emma Beqiri, a junior from Beverly, said she was excited to pursue the research opportunity when Greenwood presented it to her.
"We built a strong team of dedicated Fitchburg State students who were diligent and devoted to this project," said Beqiri, who served as project manager. "I was responsible for taking the lead and stimulating analytical conversations. I was proud to lead a team of diplomatic and diligent students who made the project engaging."
Toivo Kramer, a sophomore from New York, N.Y., was tasked with data analytics. "I was responsible for generating intuitive conversations to see where the data could bring the team, in terms of action steps the Chamber members could take," Kramer said.
Madison Pinard, a senior from Lunenburg, was also on the team and helped keep the Chamber informed of the group's progress. "I hope the work that my team and I have completed will open a new window of opportunity for other business students at Fitchburg State in the future," Pinard said. "I also hope that this encourages other students to strive to find extracurricular activities that will benefit their future careers.
Beqiri said she recommends other students pursue similar opportunities during their studies. "You never know what you will learn, who you'll meet, or what you are capable of doing." 
"There is a reason we all refer to one another as 'team members' and 'team,' because that is exactly how you should view your colleagues and project groups," Kramer said. "We support one another, provide honest feedback and know that we will get our independent work done, then come together to collaborate to hit all of our goals."
"This was a great opportunity to partner with Fitchburg State University and expose students to business and community leaders," said Nascimento. "The economic outlook report is an important project that provides valuable insight into business and consumer confidence in North Central Massachusetts."
In photo, from left, Fitchburg State student Madison Pinard, Fidelity Bank Chief Lending Officer Joseph Silva, Fidelity Bank Senior Vice President Derek Beahn, and Fitchburg State students Emma Beqiri and Toivo Kramer.