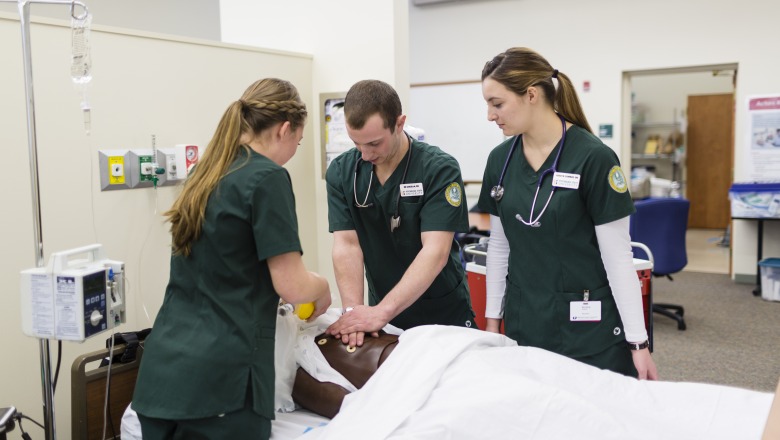 By Jordan Costa '21
As if the year 2020 hadn't posed enough challenges, this fall the Nursing Department faced a fresh quandary when they had to find several new faculty members on the eve of the semester's opening.

"Looking for new clinical/lab and course instructors for Foundations to Nursing two weeks into the semester was very difficult," said Nursing Department Chair Dr. Deborah Benes, explaining the rigorous credentials required of nursing instructors. "It is also very difficult to pick up a course that has already started so I needed someone who was experienced and knew the material. To do this, I decided to have Rose Kronziah-Seme, one of my faculty, who was assigned to teach labs, take over the course, and be in charge of all lab instructors for the foundation's lab associated with the course."

With several lab courses also needing to be filled, Benes reached out to alumni and received a rapid response.

Sophomore Level Coordinator Arlana Arsenault was more than willing to step up to make sure the courses ran until a replacement professor was found. Benes was very grateful for all of her staff who have made this transition as smooth as possible. "I just want to thank everyone for stepping up," Benes said. "This semester started out very different than past years, faculty and students needed to learn new strategies for teaching and learning in the new normal. Having to react and respond so rapidly to additional changes takes strong team players. The students are fortunate to have such strong nurse role models as their educators."

Karen Wrigley '19, who works as a labor and delivery nurse at Heywood Hospital in Gardner, was recruited to teach the Fundamentals of Nursing lab. As a clinical instructor at Montachusett Regional Vocational Technical School's licensed practical nurse program, Wrigley has already accrued significant teaching experience.

With short notice, Wrigley said she jumped right in after reviewing the material. She said other instructors were very helpful with any questions or concerns she had about taking over. Another challenge she faced was the gap between the online classes she took when she was completing her BSN and now teaching in-person labs.
"I did my ADN to BSN all online which tends to be the norm these days due to the coronavirus," Wrigley said. "I never actually had a lab at Fitchburg State like the one I am teaching here because I took fundamentals of  nursing 24 years ago when I first started out in my nursing career as an LPN."
Wrigley was an LPN from 1997 to 2006 and finished her associate's degree at Mount Wachusett Community College, working the last 14 years as a registered nurse at Heywood Hospital. She went on to complete her Bachelor of Science in Nursing at Fitchburg State in 2019.
Wrigley said the students adjusted well to the changes of staff and they voiced from the very beginning that they are really appreciative that she took on this role. "I feel the students all made me feel very welcomed and I think that knowing that I will be there for them for the rest of the semester helped them gain some normalcy in their ever-changing pandemic schedule," Wrigley said.

This alumna is eager to work with the students and continue with the semester, using her experiences to help the upcoming nurses. "I am really looking forward to helping shape these young minds and molding them into great nurses," Wrigley said. "I loved the energy, enthusiasm, and passion these students had on my first day of teaching them."

Being able to adapt to new people and challenging circumstances is something that these aspiring nurses will be able to take into their careers long after they leave Fitchburg State.

"At first, they were concerned, but since we didn't panic, neither did they," Benes said. " I think we provided them with a good example of teamwork and resiliency. This is the life of a nurse, when a curveball is thrown your way you adapt and change to make sure you are able to provide safe patient outcomes. Similarly, as a nurse educator, we adapted to make sure our students were able to meet their course and lab outcomes."
The way students have adapted to this unexpected situation has proven that they are capable of the obstacles they will have to overcome as future nurses. Not only are the students and staff smoothly transitioning, but it is inspiring for the current nursing students today as they move through the courses, to see the alumni giving back to the program that shaped them into the nurses and educators they are today.