Michael Hove
ASSOCIATE PROFESSOR
Psychological Science
School of Health and Natural Sciences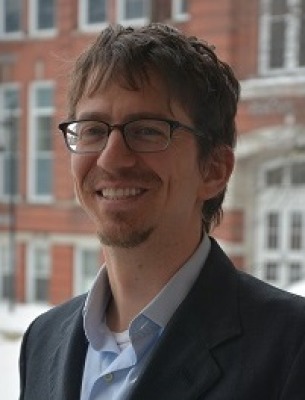 Courses Taught
Intro to Psychological Science (PSY 1100)
Research Design and Analysis I (PSY 2000)
Research Design and Analysis II (PSY 2100)
Cognitive Neuroscience (PSY 3050)
Sensation and Perception (PSY 3430)
Sensation and Perception Lab (PSY 3415)
Psychology of Music - Advanced Seminar (PSY 4904)
Science of Meditation - Advanced Seminar (PSY 4904)
Background
Ph.D., Cornell University (Psychology, Cognitive Neuroscience)
M.A., University of Munich ( Educational Psychology)
B.A., Washington University in St. Louis (Philosophy-Neuroscience-Psychology)
Rhythm and timing
Sensorimotor synchronization
Music cognition
Auditory perception
Interpersonal synchrony
Timing in Parkinson's disease and ADHD
Altered states of consciousness
Hearing Loss
Multisensory Integration
 
Hove, M. J.
, Martinez, S.1, & Stupacher, J. (2020). Feel the bass: Music presented to tactile and auditory modalities increases aesthetic appreciation and body movement. Journal of Experimental Psychology: General, 149, 1137–1147. 
Hove, M. J.
, Vuust, P., & Stupacher, J. (2019).
Increased levels of bass in popular music recordings 1955–2016 and their relation to loudness. Journal of the Acoustical Society of America, 145. 
Hove, M. J.,
 Gravel, N.1, Spencer, R.M., & Valera, E. M. (2017). Finger tapping and the phase correction response in adults with ADHD: Pre-attentive sensorimotor timing is unimpaired in ADHD. Experimental Brain Research, 235, 3663-3672.  
Hove, M. J.
, 
Stelzer, J., Nierhaus, T., Thiel, S., Gundlach, C., Margulies, D., van Dijk, K., Turner, R., Keller, P. E., & Merker, B. (2016). Brain network reconfiguration and perceptual decoupling during an absorptive state of consciousness. Cerebral Cortex, 26, 3116-3124.  
Stupacher, J.
1
, Hove, M. J., & Janata, P. (2016). 
Audio features underlying perceived groove and sensorimotor synchronization in music. Music Perception, 33, 571-589.
Hove, M. J.
, Marie, C., Bruce, I. C., & Trainor, L. J. (2014). 

Superior time perception for lower musical pitch explains why bass-ranged instruments lay down musical rhythms

. Proceedings of the National Academy of Sciences, 

111(28),

 10383-10388.
Hove, M. J.
, 
Fairhurst, M., Kotz, S. A., & Keller, P. E. (2013). 
Synchronizing with auditory and visual rhythms: An fMRI assessment of modality differences and encoding reliability. NeuroImage, 67, 313-321.  
Stupacher, J.1, Hove, M. J., Novembre, G., Schütz-Bosbach, S., & Keller, P. E. (2013). Musical groove modulates motor excitability: A TMS investigation. Brain and Cognition, 82, 127-136.          
Hove, M. J.,

 Suzuki, K.

 1

, Uchitomi, H.

 1, Orimo, S., & Miyake, Y. (2012). Interactive rhythmic auditory stimulation reinstates natural 1/f timing in gait of Parkinson's patients. PLoS ONE, 7(3): 

e32600. 
Hove, M. J.
 & Risen, J. L. (2009). It's all in the timing: Interpersonal synchrony increases affiliation. Social Cognition, 27(6), 949-961.