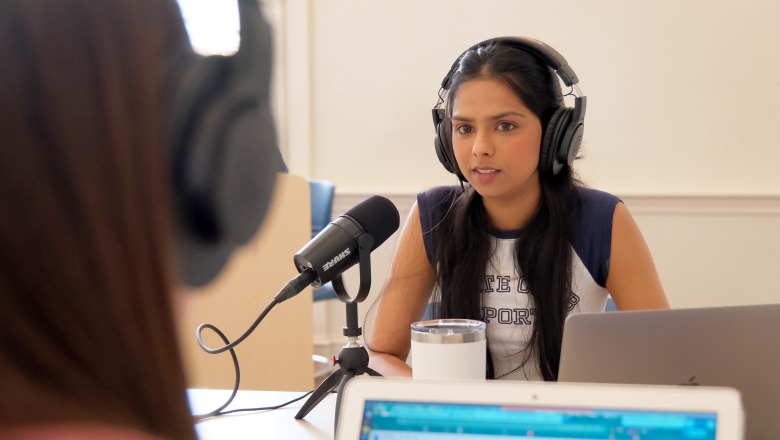 Fitchburg State University is launching a new podcast series that will feature student voices discussing life on campus and institutional history.
"Perseverantia: The Fitchburg State Podcast Network" is available wherever podcasts are streamed, and can also be found on the university website at fitchburgstate.edu/podcast. The name of the podcast is a tribute to the university motto, perseverantia, Latin for "perseverance" (and there's already a mini-episode posted about its formal pronunciation). 
The podcast project emerged from a collaboration between Associate Professor Katherine Jewell of the Economics, History and Political Science Department and Associate Professor Kevin McCarthy of the Communications Media Department, each of whom have used podcasts in their classes as a means to teach students about history and storytelling.
Perseverantia seeks to apply and disseminate Fitchburg State's unique combination of expertise in media production and engaging content creation that highlights the academic, social, and community connections and voices of the university and central Massachusetts. 
The podcast series was launched with support from the university's Academic Innovation Fund grant program. 
"My research into university and student media in the 20th century U.S. showed me how central and meaningful such products can be to building academic and campus communities," Jewell said. "With this project, we envision a new kind of aural university media that can build on Fitchburg State's academic strengths as well as offer productions that speak to the broad range of activities on our campus that go beyond research."
"This project has allowed me to merge documentary storytelling with audio production, while providing opportunities to students interested in building new skills and a professional portfolio through the medium of podcasting," said McCarthy. "Perseverantia has been a terrific excuse to forge connections across campus, with faculty, staff, students, and the community beyond." 
The series launched with "FalconCast," produced by students in McCarthy's Spring semester podcasting class. In this series, students explore overlooked areas of campus life, including student activities, capstone projects, or people on campus whose work goes on behind the scenes. All aspects of FalconCast are student-produced, including the show's artwork.
Other shows on the network will include:
"Perspectives" - This show explores the many voices of Fitchburg State's community. Series feature conversations with students, faculty, and staff in the "Five with a Falcon" segments, or longer-form interviews with alumni. 
"Classroom Stories" - Students come to Fitchburg State University for academic enrichment and the innovative pedagogy offered in its classrooms. Classroom Stories feature the work of students and learning communities and the exciting explorations in the content of the many disciplines available for study at the university. 
Special Series: "The Empty Campus" - Some stories require multiple episodes to explore their many facets, and Perseverantia's special series explore issues related to campus life, in-depth research and scholarly explorations, or longer narratives drawing from the classrooms and lives of our community. "The Empty Campus" features oral histories about the campus community's experiences during the Covid-19 pandemic.
"Getting to The Point" - Produced by journalists at Fitchburg State's student-run newspaper, The Point, this series offers behind-the-scenes and in-depth reporting about newsworthy events on campus or in the community or features longer-form conversations with newsmakers.
McKenzie Calvao, a rising junior from South Dennis, was a writer and co-host for the first episode of the "FalconCast" series.
"I hope listeners of the Perseverantia podcast will be able to listen to these conversations
and stories from their peers and get a better understanding of the community we have at
Fitchburg State," said Calvao, who hopes to pursue a career in screenwriting after graduation. "It was insightful being involved in so many different student experiences and I hope that listeners can get that from listening to the episodes as well. I think working on the podcast has shown me another avenue for my own creative endeavors and provided me with skills and understanding of how podcasts work that I can apply to personal projects going forward, including my own podcast in the future."
Zoe Chrisostomides, a rising sophomore interdisciplinary studies major from Scotch Plains, N.J., said she was encouraged to join the podcasting effort through her journalism classes at Fitchburg State. "I've always loved writing," she said. "Ever since I was a kid, English and writing were my favorite classes."
Podcasting provides a powerful mechanism to produce and share journalism, Chrisostomides continued. "It's creating relatable content that people can listen to," she said. "The podcast will be awesome, especially for communications majors. For someone who's not really sure what they want to do, I think getting into podcasting is a great way to get involved."
Adam Fournier, a rising junior from Southbridge, is a producer and editor for the podcast. He said his work on the show built upon editing skills he has honed in his film/video classes.
"I hope that listeners will get a feel for what life on campus is like," he said. "I presented the idea of the show having a laid-back tone to capture the essence of the students and campus life. Episodes will also offer insight into the life of Fitchburg State grads, where they present the highlights of their lives on campus and what life is like after leaving Fitchburg State. I think these episodes in particular will inspire potential future students to apply to Fitchburg State when they hear how highly graduates talk about the university, its programs, and its faculty."
Matthew Baier, a rising senior from Milford, said the podcast was "a perfect fit" with his audio recording skills connected to film studies. "I hope listeners learn more about the stories and experiences of people on campus and the community," Baier said. "After Fitchburg State, I plan to go into the film industry being a sound recordist on film sets. My experience working on Perseverantia has added to my audio editing experience and will help me in the future."
Learn more and listen at fitchburgstate.edu/podcast.