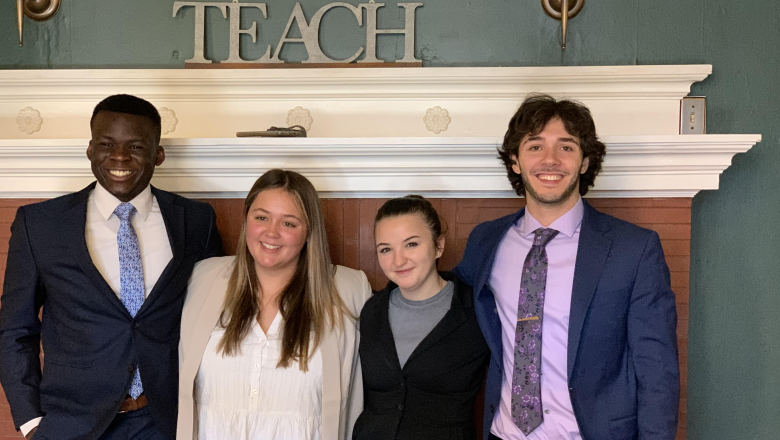 Fitchburg State University's storied history in the American Moot Court Association's national tournament continued last weekend when the team of students Benjamin Hill and Maylynn Velazquez scored second in the country in the brief-writing competition.
In the moot court competition, teams of students argue opposing sides of a hypothetical legal case, as in an appellate court proceeding. This year's hypothetical case concerned whether a presidential vaccine requirement violated the U.S. Constitution. Students in the competition had to prepare arguments for both sides of the case.
"I am very proud of this group of students," said Professor Paul Weizer of the university's Economics, History and Political Science Department, and the founder of the university's moot court program. "They worked hard, supported one another through a very difficult semester, and produced great results. I continue to be in awe of the resiliency of our students. They competed against some of the most prestigious programs in the country and made Fitchburg State proud."
In addition to making oral arguments on the legal issues at hand, team members submitted written briefs. Hill, a senior from Troy, N.H. majoring in political science and history, and Velazquez, a senior from Leominster majoring in political science, scored second in the country in that portion of the competition.
Hill said he relished the chance to compete against big-name schools, especially those with larger pre-law programs. "I take that to mean I'm competing against the brightest students in the country," he said. "Public speaking makes me nervous, but once a round begins and I'm going head-to-head against someone from one of these schools, the nerves disappear."
Hill, in his second year on the moot court team, credited the preparation by Professor Weizer and coaches Christine Brigham and Alyne Butland for Fitchburg State's continued strong showing year after year. Brigham and Butland are both Fitchburg State alumni and participated in moot court as undergraduate students, and now work as attorneys. Fitchburg State's program has been nationally ranked by the moot court association, ahead of institutions including Michigan State, Duke University, Holy Cross, and Morehouse College.
"Competing against some of the most brilliant individuals from throughout the nation was an Intimidating experience, but I had no doubt that my partner and I were capable of performing at an equal if not better level," Velazquez said. "Our coaches spent hours preparing us, and that paid off immensely throughout every argument."
"I've always wanted to pursue some form of a legal career, but I wasn't sure if I'd be cut out for it," Hill said. "My time in moot court has shown me that I do have what it takes to pursue that dream. I can proudly say that my coaches and my effort put me in a position to write better than students from Yale, USC, the Air Force Academy, Vanderbilt, University of Chicago, etc., and I utilized that opportunity and beat all those teams. There aren't words to describe how that feels."
Hill said he's still not a fan of public speaking, but has learned how to compartmentalize his fears when he needs to achieve an objective. "I'd like to thank Dr. Weizer and the coaches for taking the time to guide us through this experience; my history advisor, Dr. Christine Dee, for convincing me to try moot court that first year; my parents for putting such a large emphasis on academic excellence my whole life; and my moot court partner, Maylynn Velazquez, for her excellent first-year performance, allowing me to end my final year of moot court with a podium finish."
Velazquez said she and Hill spent many long nights in the library honing their arguments for the written briefs, looking to create a document that would pass muster with the highest court in the land. 
"My moot court experience has affirmed my decision to pursue law school and one day become an attorney," she said. "I never imagined I would be so interested in appellate law but moot court has opened a new realm and a possible future career path."
She added she was mindful of the responsibility of keeping up Fitchburg State's history of success in the competition. "I am honored to have been able to contribute to that success and I hope to do the same thing next year," she said.
Fitchburg State students Miranda Gustin of Leicester and Anthony Marcella of Boxborough also advanced to last weekend's national competition after a strong showing in the regional tournament last November.