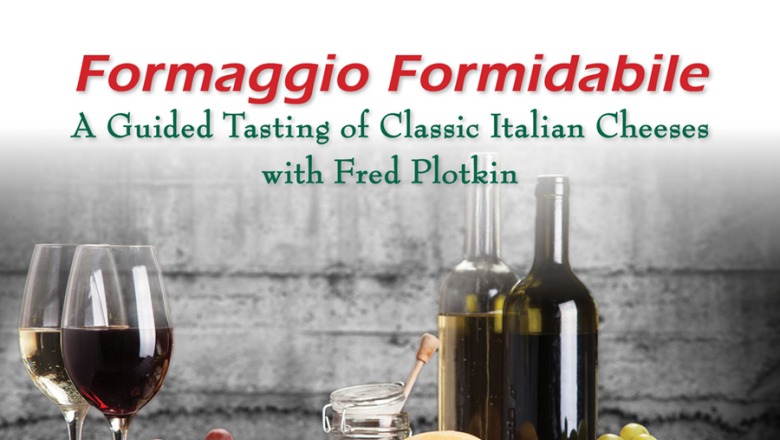 The Center for Italian Culture at Fitchburg State University concludes its "Made in Italy" programming series on April 27 with an expert-guided tasting of Italian cheese and wines.
Fred Plotkin, a world-renowned expert on opera and everything relating to Italy, will serve as a virtual guide to this in-person evening dedicated to the special pleasures of Italian cheese and wine. Plotkin is the author of seven books on Italian food culture, including the brand-new Italy for Food Lovers that he co-wrote with travel guru Rick Steves. For his services to spreading Italian culture worldwide, Plotkin was made a Cavaliere (the Italian equivalent of a knighthood) in 2015 by the president of Italy.
The program will be held at 5:30 p.m. Thursday, April 27 in the main lounge at Hammond Hall, 160 Pearl St. Tickets are $50 and may be purchased online at fitchburgstate.edu/made-in-italy. 
Participants in this event will be able to taste and learn about five extraordinary Italian cheeses:
Fresh colabro ricotta - This elemental, versatile, beguiling cheese is the crucial ingredient at many Italian breakfasts as well as in pasta cookery and desserts
Pecorino toscano - The timeless flavor of this ancient sheep's milk cheese—beloved in Tuscany and Central Italy since the time of the Etruscans—is by turns herbal and fruity, reflecting the food the ewes eat.
Taleggio - This luscious, creamy cheese from Lombardy is an exaltation of the milk produced by cows who graze in alpine valleys
Parmigiano-reggiano - This magnificent King of Cheeses from Emilia-Romagna and a small pocket of Lombardy forms crystals that embed a complex nutty and sweet flavor, all the while providing huge amounts of protein in every bite
Gorgonzola dolce - A blue-veined cow's milk that is, by turns, sweet and sharp, comes from northern Italian caves. It pairs in dazzling ways with different fruits and nuts.
Throughout this academic year, the Center for Italian Culture has sponsored programs that explore the "Made in Italy" merchandise mark, one that was developed in the course of the twentieth century to indicate that a product was completely designed, manufactured and packaged in Italy. It is one of the most well-recognized "brands" in the world.
The Made in Italy merchandise mark underscores the international uniqueness of Italian goods in four traditional industries: food, fashion, furniture, and mechanical engineering. Italian products in these fields and others have come to be associated with high quality, specialization, differentiation, and elegance, and carry strong links to famous Italian industrial districts and makers. They are often connected with the concept of luxury.
Read more about Plotkin's talk, and learn about previous events in the series, at fitchburgstate.edu/made-in-italy.