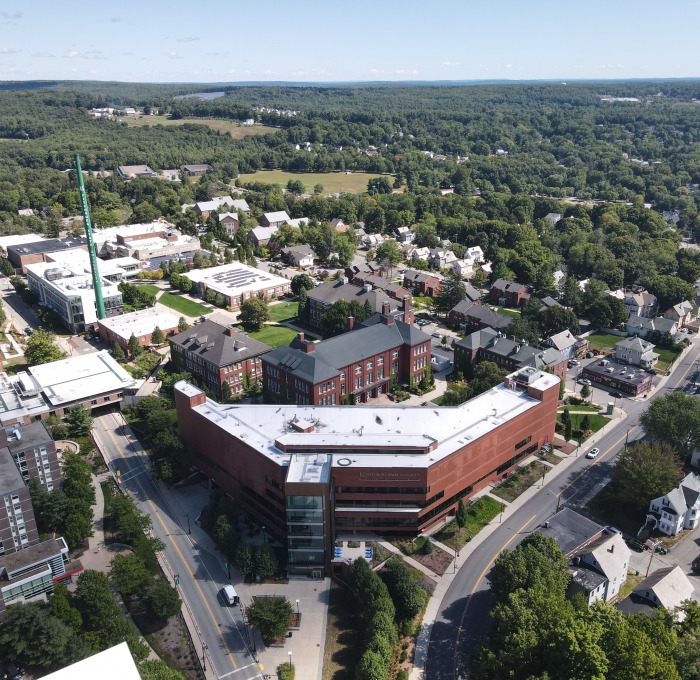 All undergraduate and graduate students who are attending in-person classes, conducting research on campus, living in residence halls, or participating in campus life activities will be required to be fully inoculated with an approved COVID-19 vaccine prior to the start of the 2021 academic year. Employees not covered by collective bargaining units must also be fully vaccinated prior to their return to campus for the fall semester.
This requirement will be an important step in getting us closer to the safe and vibrant in-person experience we all desire. This page contains answers to frequently asked questions about the requirement.
FAQs About COVID Vaccination Requirements
Due to the length of time it takes to become fully vaccinated, students are encouraged to schedule vaccine appointments as soon as possible. 
Resources for doing so include:
Fitchburg State and Community Health Connections will collaborate on a COVID vaccine clinic later this summer.
Monday, Aug. 30, for new residential students, as part of move-in;

Tuesday, Sept. 1, for returning residential students;

Monday, Sept. 7, for all students and employees.
There will be a follow-up clinic at the end of September for the second dose.
The university will also host a regular flu shot clinic in October, in which we will partner with Hannaford pharmacy.
As a general rule, we will accept the Pfizer, Moderna, or Johnson & Johnson vaccines, along with others that are accepted by the Centers for Disease Control (CDC) and the World Health Organization (WHO)
We will work with the student on a case by case basis to determine next steps, if any.
Masks are required indoors except in private offices or in individual residence hall units.
Religious and medical exemptions will be reviewed and granted following the same exemption procedures universities utilize in the case of other vaccination requirements consistent with state law. 
Students seeking a religious exemption for the COVID vaccine should make a personal attestation, dated and signed by the student, via email to Maribel Pacheco, Administrative Assistant for Immunizations and Records, at mpachec7@fitchburgstate.edu. Note that per the Massachusetts Department of Public Health, the religious exemption request must be renewed every year.
Students seeking a medical exemption for the COVID vaccine should send information dated and signed by their medical provider via email to Maribel Pacheco, Administrative Assistant for Immunizations and Records, at mpachec7@fitchburgstate.edu.
An employee may request an exemption to the vaccination requirement based on the existence of medical contraindication to vaccination. In addition, an employee may request an exemption to the vaccination requirement based on a sincere religious belief.  In both cases, an employee will be required to submit an attestation citing their exemption. Employees should fill out the attestation form for their unit found here. Employees who secure an exemption are required to take additional precautions in the workplace and will be required to participate in weekly mandatory COVID-19 testing through the university. Additionally, employees who are not vaccinated should wear a face covering indoors.
Yes, students need to be fully vaccinated even if they have previously had COVID-19. 
All students engaging in on-campus life or activities must be vaccinated, unless they qualify for an exemption. 
Students will be asked to provide copies of their official COVID-19 Vaccination Record Card to attend in-person classes, participate in athletics and other campus activities, and move into residence halls. 
Yes. All visitors to residence halls must be vaccinated and follow all COVID health and safety protocols.
All visitors are welcome to campus and will be required to comply with all COVID health and safety protocols.
According to the CDC, people are considered fully vaccinated: 
Two weeks after their second dose in a two-dose series of the Pfizer or Moderna vaccines, or
Two weeks after a single-dose vaccine of Johnson & Johnson's Janssen vaccine.
We will evaluate the need for mandatory and surveillance testing in the fall and adapt the testing protocols according to the data and recommendations by the Massachusetts Department of Public Health. 
Students who wish to access campus even if their course load is fully remote should provide proof of vaccination. If there is no intention to come to campus, no vaccination is required.
Vaccines that were received outside of the United States and have not yet been authorized by the FDA or WHO will be reviewed and accepted following the CDC and state public health guidance. Please check with campus health services for further guidance. 
Yes.  In accordance with the CDC and state guidance, all individuals who test positive for the virus, even without symptoms, are treated as active cases, and will need to be isolated immediately and regular contact tracing protocol will occur. 
Students who did not submit proof of vaccination or a qualified exemption by Friday, Oct. 15 will be disenrolled from Fitchburg State and barred from the campus effective Monday, Oct. 18. Failure to comply with the COVID-19 vaccine mandate is a violation of the Student Code of Conduct. No refunds of any type are issued when students are removed from campus for disciplinary reasons.
We will work with the student individually.