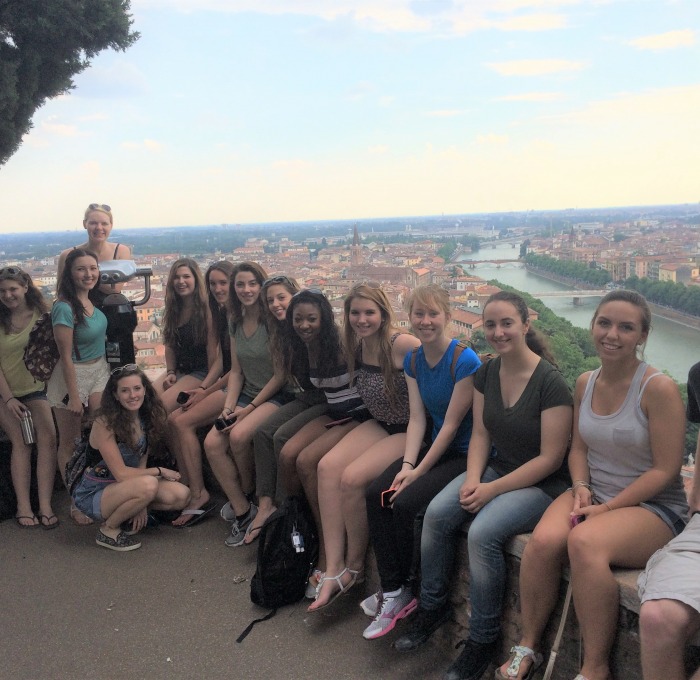 Dates: June 2, 2021 – June 29, 2021
Students are able to take one or both of the following courses in Verona:
Join Professor Govindan on his program to Verona, Italy! Study nutrition concepts and how they relate to the so-called Mediterranean Diet. Is Italian food synonymous with the Mediterranean diet? Analyze this using the chemistry and biochemistry of ingredients, such as wine, cheese and olive oil. Go beyond the classroom and immerse yourself in the culture of Verona, Italy!
(3 credits) This course counts as an SMT (non-lab) and a GDC, Global Diversity.
Professor Rala Diakite will lead the Eat, Speak, Italian course which will teach or review foundational language structures in the context of food and cuisine- ordering at a bar, shopping in an open market, ordering in a restaurant etc. Many classes will take place on location in the city. Students will keep a good journal/blog, and use Italian in real situations. This program will also explore the eating habits in Italy, the Mediterranean diet, food history, regional cuisine and more!
(3 credits) This has CTW and GD designations in LAS. 
Cost
$3,900
Includes: airfare, accommodations, orientations (pre-departure and on-site orientation)
Doesn't Include: personal expenses, SGOCE fees for an undergraduate summer course
Payment Schedule
First Payment: February 5, 2021 - $1000 due
Second Payment: March 5, 2021 - $1,450 due
Third Payment: April 5, 2021 - $1,450 due
Payments are non-refundable.
March 2021: School of Graduate, Online and Continuing Education Fees due upon registration
3 credits (one course) = $963.00
6 credits (both courses)= $1,926.00
Questions? Get in touch!
The Office of International Education provides assistance to international students and students studying abroad.
Hammond Hall 316