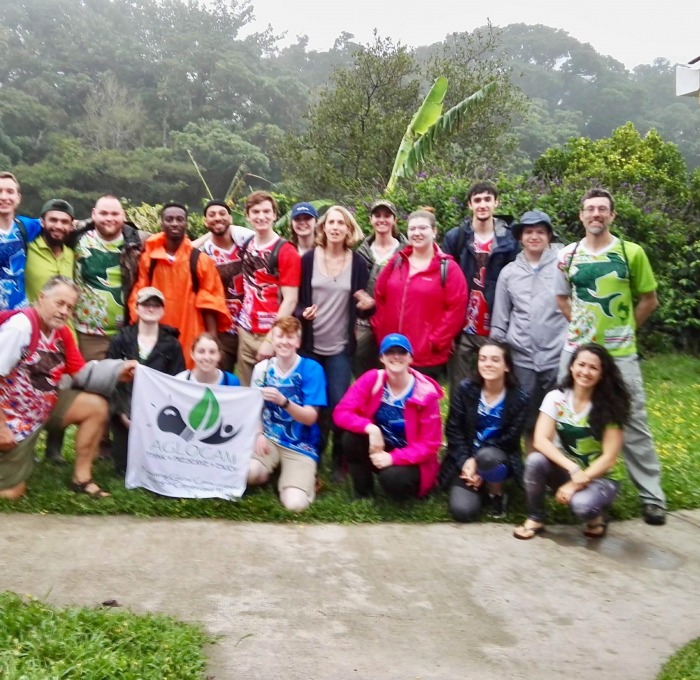 Program Details
July 22, 2021  - August 2, 2021
Join Professor Chris Picone on his Tropical Ecology Program to Costa Rica . Students experienced first-hand what they learned previously in the classroom, traversing rainforests, cloud forests, dry forests, and agricultural systems. They also participated in a sustainable service-learning project while engaging with the local community.  
Tropical Ecology of Natural and Agricultural Systems
This course will survey the ecology of terrestrial ecosystems in Costa Rica, including rainforest, cloud forest, dry forest, and agricultural systems. Recurring themes will be similarities and connections between native ecosystems and agricultural systems.

The course will meet twice weekly through July, before leaving July 22 - August 2, with one follow-up meeting after our return.

This 3-credit class counts as a biology elective as well as an SMT, GDCN class for the LAS.
 
Program Price: $3,260.00
Includes: airfare, accommodations, insurance, orientations (pre-departure and on-site orientation), meals
Not included: personal expenses, School of Graduate, Online and Continuing Education fees for an undergraduate summer course
Payment Schedule
First payment: March 5, 2021 - $750.00 due
Second payment: April 5, 2021 - $1,255.00 due
Third payment: May 5, 2021 - $1,255.00 due
Itinerary
Day 1: Thursday, July 22
Arrive to Juan Santamaria Airport and picked up by coordinator
Dinner at hotel/restaurant
On-site Orientation
Day 2: Friday, July 23
Land Tenure Issues- Finca La Bella Introduction
Day 3: Saturday, July 24
Natural history hike in the Monteverde Cloud Forest Preserve
Hummingbird gallery visit
Presentation and Discussion: Land Use Change in Monteverde
Bat mist-netting after dinner
Day 4: Sunday, July 25
Presentation & Discussion: Tropical Habitat Restoration – Reforestation
Reforestation service work
Tour El Cafetal to learn all about coffee production
Day 5: Monday, July 26
Tour a family farm in Finca La Bella
Help with a project on the farm
Roundtable discussion with farmers at the community center
Day 6: Tuesday, July 27
Travel from Monteverde to Estación Experimental Forestal Horizontes
Hike
Day 7: Wednesday, July 28
Day 8: Thursday, July 29  
Transport to Pocosol Field Station(approx. 4.5 hrs.)
Day 9: Friday, July 30
Group A: Natural History Hike with guide
Group B: Service-Learning
Day 10: Saturday, July 31
Group A: Service-Learning
Group B: Natural History Hike with guide
Day 11: Sunday, August 1
Travel to San Jose
Farewell Dinner
Closing Discussions and Evaluation
Day 12: Monday, August 2
Questions? Get in touch!
The Office of International Education provides assistance to international students and students studying abroad.
Hammond Hall 316