Program Info
*Co-Sponsored by the Center for Professional Studies and the Fitchburg State University Police Department.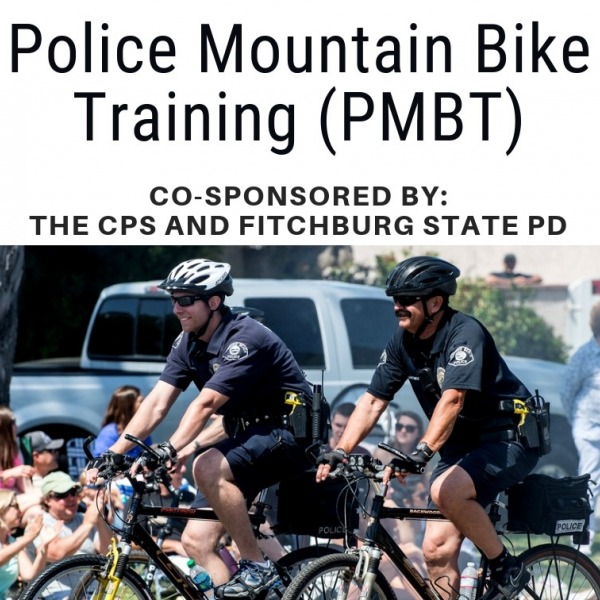 $375 per officer | The course will take place in the summer of 2022, dates TBD. Please email
cps@fitchburgstate.edu
for an update. Instructor: Sergeant Jeffrey Watson (Medway Police Department) ____________________________________________________ Payment Information: Credit card payment is required at the time of registration. If sponsoring police department would like to submit a purchase order for payment, please contact the Center for Professional Studies for PO registration code.
Not quite ready to register?
Description
This class requires that each officer be fit and in excellent health. Please ensure your officers have ample riding time on bikes prior to class for endurance, flexibility, and importantly, to prevent injuries. Bikes shall be in good working order and fitted to the officer PRIOR to their arrival at the class.

Each officer is required to have the following equipment:
Mountain bike
Helmet
Eye protection/sun glasses
Water for hydration
Flat repair kit
Duty belts are required on the third/last day of training.
 
Bikes should be equipped with appropriate mountain bike tires (knobby for all-terrain). Shocks on mountain bikes are recommended (but not required). Riding gloves are optional. Extra water/Gatorade/snack bars/sunscreen/rain gear are also highly recommended. Be sure your bike is equipped to hold a water bottle (or two) or consider a CamelBak hydration pack (to avoid getting mold in the CamelBak, store it in the freezer).
Attire for all three days is bike riding attire. It is highly recommended that you wear padded bike shorts in addition to having a well-padded bicycle seat all three days, as by the end of the class you will have done a lot of riding. Please wear a high visibility colored shirt (of your choice) (or police mountain bike uniforms) so that when riding on the roadways the visibility allows cars to better see riders. Be advised that long pants can get caught in the chain of the bike so if wearing a pant be sure it's the style that fits close to your leg.

You will have both classroom and riding time each day (majority of time is spent riding). On the first day, please meet in the classroom for an 8:30 a.m. start time with the instructors. Attendance in full is required for PMBT (Police Mountain Bike Training) to issue a certificate of completion. The Municipal Police Training Committee (MPTC) recognizes PMBT certificates. Please note that all participants are responsible for their own lunch.
Questions? Get in Touch!
The Center for Professional Studies (CPS) offers professional development to working professionals and collaborates with school districts, businesses and other professional groups on continuing educational needs.
150B Main Street