Our supplemental in-person experience for the Class of 2021.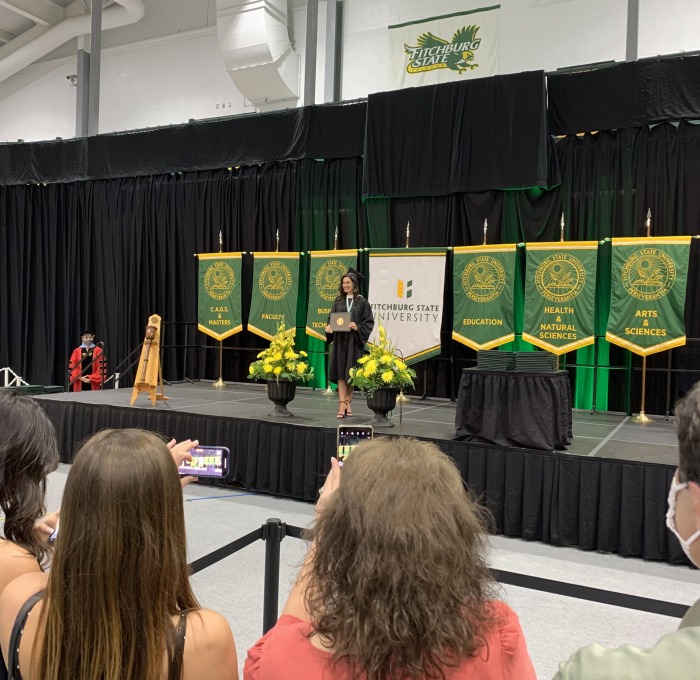 In addition to the in-person commencement ceremony happening on Friday, Dec. 17, the Falcon Walk will be a fun, hands-on opportunity for those who want to share an in-person experience with family and friends as you near the conclusion of your studies. This event will be held from 5 to 8 p.m. Wednesday, Dec. 15 and Thursday, Dec. 16 in the Athletics and Recreation Center, 130 North St. 
Please remember, this is an optional event, created for those who are seeking a face-to-face celebration beyond the ceremony itself.
At the Falcon Walk:
Each participating graduate and guests will enter the Athletics and Recreation Center at their appointed time.

Inside, the graduate's name will be called by a family member, they will cross the stage, and collect a diploma cover while their guests cheer them on. A professional photographer will capture the moment. Wear your cap and gown, or go casual. It's your choice!

Caps and gowns are now available for purchase in the Bookstore and online.

For online purchase, students should go to

fitchburgstateshop.com

and enter the term graduation in the search bar.

 

More professional photos will be taken at a second station, where graduates can pose with their guests. There will also be space for additional fun photos to celebrate the occasion.

Digital photos will be shared with the graduates to download and share, at no cost.
Because we need to remain in compliance with health and safety guidelines, all graduates and guests participating in the Falcon Walk must register in advance, and only one family unit at a time will be allowed into the photo area. We will have volunteers in place to make sure the event is run in accordance with all public health directives, while still making sure this is a fun and uplifting moment for the members of the Class of 2021 who wish to participate.
Information on how to register for the Falcon Walk has been sent to graduates via their student email.
COVID Safety Guidelines
In accordance with the state's COVID-19 Safety Standards and guidelines, graduates and guests must attest that they will NOT attend the Falcon Walk if:
They are experiencing any symptoms such as fever (100.0° and above) or chills, cough, shortness of breath, sore throat, fatigue, headache, muscle/body aches, runny nose/congestion, new loss of taste or smell, or nausea, vomiting or diarrhea.
They have had "close contact" with an individual diagnosed with COVID-19 and have not completed the required quarantine period. 
They are currently required to self-isolate or quarantine by their doctor or a local public health official.